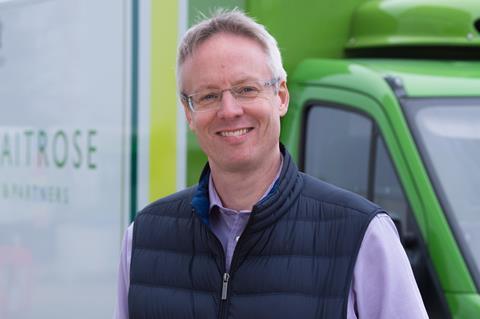 Waitrose digital director Ben Stimson has confirmed his departure at the end of September "once Waitrose.com has completed its transition to become the only place to buy Waitrose food online".
Stimson has been with the company for a decade and moved into his current role in May 2019. He was previously retail director. He survived a major management cull at the company, which came into effect in February.
Through the pandemic Stimson led a massive ramping up of Waitrose's online grocery operation, increasing capacity by 100,000 weekly orders online. Last month, Waitrose.com saw its biggest ever week of online orders at 163,000, an increase of 185% compared to the start of the year.
The effort had started prior to lockdown, as Waitrose prepared to split from Ocado.com which has been its online fulfilment partner for nearly 20 years. Speaking to The Grocer in June, Stimson said the preparations proved a "big advantage" to Waitrose in meeting demand through the pandemic.
"While I wouldn't say for one moment we were ready when the crisis hit, my job was to make sure we moved as fast as we could and that we had the confidence we could pull this off," he said.
This year Waitrose.com was shifted onto a new ecommerce platform, and more stores began fulfilling online orders. A £100m capital investment programme which included a new dedicated Customer Fulfilment Centre in Enfield was accelerated. The new CFC opened in May.
Stimson's team also boosted Waitrose's rapid delivery capability - which delivers a basket of up to 25 grocery items in less than two hours – expanding it to an additional 20 stores in April.
Stimson told The Grocer his two proudest achievements during his tenure were the major change "in the way we ran our shops to make them more flexible, and more efficient" implemented when he was retail director, and "the decision taken five years ago to shift from a rapid growth strategy online to refocus on creating profitable foundations and sustainable growth".
"In the short term, sales growth slowed as we incentivised less, but that gave us the basis for the online business we have today and our willingness to invest in it," he added.
Waitrose said it was too soon to confirm if the role of digital director would remain, or if a replacement for Stimson would be sought.
"I'd like to thank Ben for all he has done for the business. Ben has led our Waitrose.com team through a period of significant change and rapid development - including most recently our response to the unprecedented demand caused by the pandemic," said Waitrose recently appointed executive director James Bailey.
"We all at Waitrose wish him the very best for the future.".