Jasper Cuppaidge

Founder and CEO, Camden Town Brewery on glass collecting, crisps and being the 'king of lager'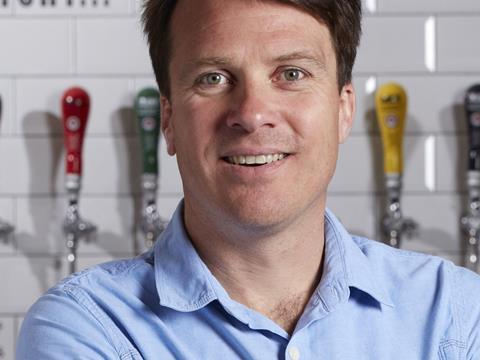 What was your first-ever job? Glass collecting at The Westbourne pub in Notting Hill.

What's been your worst job interview? I haven't had many bad experiences - I interviewed Joey, Camden's first-ever employee, while she was waitressing at another pub, and hired her on the spot. She's been with us ever since.

What was the first music single you bought? Paul Revere by the Beastie Boys.

How do you describe your job to your mates? The king of lager, and a much better glass collector than I used to be.

What is the most rewarding part of your job? Tasting Hells lager with the brewing team.

What is the least rewarding part? Leaving the brewery to travel. When I get back it takes me a while to catch up on all the things that have going on.

What is your motto in life? Over-deliver on expectation.

If you were allowed one dream perk, what would it be? An unlimited stash of crisps to go with our Friday desk beers.

Do you have any phobias? Cenosillicaphobia - the fear of an empty glass.

If you could change one thing in grocery, what would it be? For Camden to have floor stacks in every great retailer in the country.

What luxury would you have on a desert island? Family, music and, of course, Hells.

What animal most reflects your personality? I asked the beer team for their suggestions - they said a kangaroo because I never sit still, or an owl, as I have eyes in the back of my head.

What's your favourite film and why? I love watching Fantastic Mr Fox with the kids.

What has been the most embarrassing moment in your life? There's too many to mention. I always forget my passport or miss my flight, so it's a running joke with the team. If I'm ever travelling anywhere I'll get a call from them to double check.

Which celebrity would you most like to work with and why? It would be cool to collaborate with Foals, as they seem to be the brewhouse's favourite band at the moment.

What would your death row meal be? A summer pasta, fresh tomatoes, basil and the best Parmesan you can get.