Oliver Dickinson & Rory Paterson

Co-founders, Wow Food & Drinks, on working weekends, Judd Apatow and skagen toast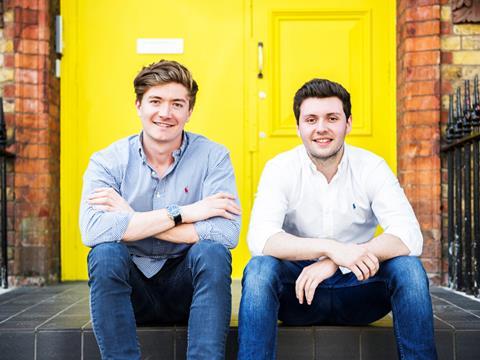 What was your first job? Oliver: I was self-employed at first, running my own marketing agency at 16, called Fluid Advertising.

What was the first album you bought? Rory: Room on Fire by The Strokes.

How do you describe your job to your mates? Rory: Rewarding, exciting, fast-paced. We've taken Wow from a concept and made it into a reality, now we can see people enjoying it all over Europe.

What is the least rewarding part? Oliver: Working on the weekends!

What is your motto in life? Rory: Don't confuse activity for action.

If you were allowed one dream perk, what would it be? Oliver: To have an in-office Michelin starred chef to rustle up a hearty breakfast, a delicious light lunch and to then prepare and pack me up dinner for me to take home and heat up.

Do you have any phobias? Oliver: Ever since a friend sailed after me on a lake with a live snake wrapped around his wrist I've been petrified of them.

If you could change one thing in grocery, what would it be? We would like it to place more emphasis and support on the important role that smaller brands have.

What animal most reflects your personality? Oliver: An orangutan. They're pretty chilled and personality aside, I'm told I also have particularly long arms.

What's your favourite film and why? Rory: Anything from Judd Apatow. I love comedy and when his films first came out I loved the awkward humour that they became famous for.

What has been the most embarrassing moment in your life? Rory: My haircut in high school. I don't know what I was thinking…

Which celebrity would you most like to work with and why? Rory: Leonardo di Caprio, an outspoken environmentalist, amazing actor and - what many people don't know - a savvy investor/mentor who is part of numerous exciting new brands.

What would your death row meal be? Oliver: Traditional skagen toast - Swedish prawns on toast basically. In Stockholm we ordered it for both a main course and a dessert.

What luxury would you have on a desert island? Oliver: A fishing net, so I can make skagen toast.