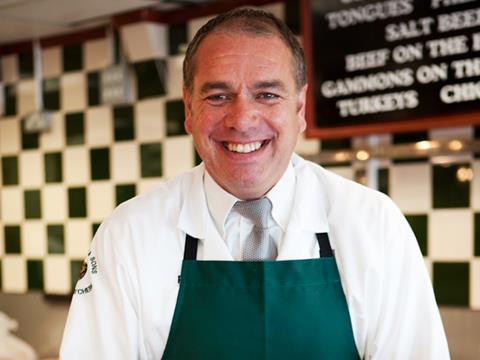 Paul Turner: brand owner, Alf Turner, on Dragons' Den, Help for Heroes and Steve Jobs

What was your first job? I, like my brothers, became a Saturday boy at the family butchers shop.

What's been your worst job interview? The worst for nerves was Dragons' Den and facing Peter and the gang! Although it turned out to be the best interview once I gained investment and stopped hyperventilating.

What was the first music single you bought? Going Underground - The Jam.

How do you describe your job to your mates? My job is like juggling jelly most days and a terrific rollercoaster. I work on the Alf Turner brand while still managing our butchers shop with my brother Kevin. I can be talking commercials with a retailer one minute and then serving a regular customer a pound of sausages the next.

What is the most rewarding part of your job? The donation we make to Help for Heroes and seeing the money enrich the lives of our injured servicemen and women is a huge satisfaction.

What is the least rewarding part? The 4.30am alarm call every morning.

What is your motto in life? Never take no for an answer.

If you were allowed one dream perk, what would it be? Heating and a window in the office - we still work out of my nan's old kitchen from when they converted their house into our butchers shop.

Do you have any phobias? Failure.

If you could change one thing in grocery, what would it be? All retailers' head offices situated on one retail park in central England - it would save me and my car a fortune in petrol and mileage.

What luxury would you have on a desert island? A barbecue.

What animal most reflects your personality? A Tasmanian devil, so my family tell me.

What's your favourite film and why? Steve Jobs - his determination to succeed inspires me greatly.

What has been the most embarrassing moment in your life? Talking like Scooby-Doo to four million people on Dragons' Den.

Which celebrity would you most like to work with and why? Chris Evans - he throws a great beer festival.

What would your death row meal be? The new Chuck n Rib Burger, of course.