From the discounters to high street eateries, here are all the vegan Christmas sandwiches on offer this festive season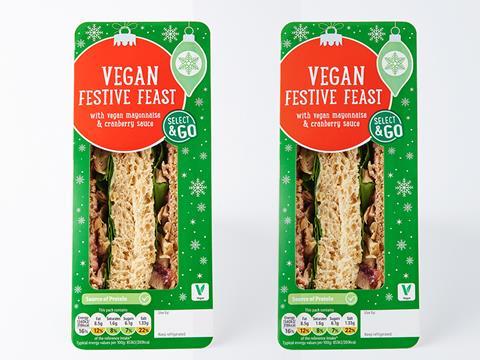 Lidl Vegan Festive Feast
Rsp: £1.69
This festive addition to Lidl's food-to-go range is said to contain "all of the elements of your festive feast but entirely vegan". It includes a plant-based turkey alternative, spinach leaves, cranberry sauce and vegan mayonnaise.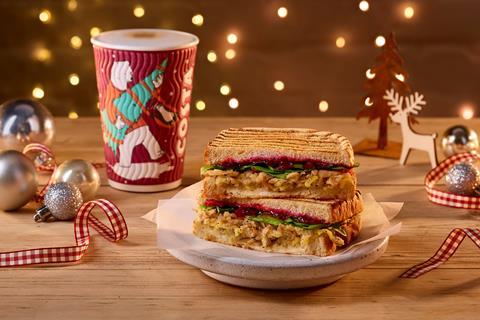 Costa Vegan Turkee, Cranberry & Stuffing Bloomer Toastie
Rsp: £3.50
Catering to Costa's vegan clientele, this plant-based toastie features meat-free 'turkee', sage & onion stuffing, cranberry sauce and spinach on white bloomer bread.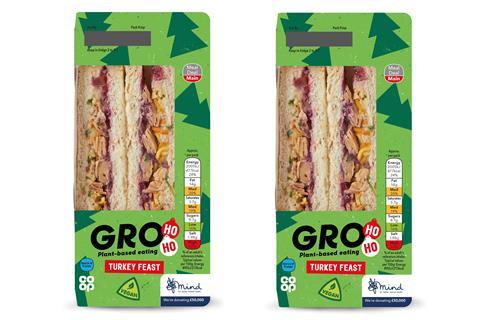 Co-op Gro Vegan Turkey Feast
Rsp: £3
A new addition to Co-op's Gro range, this festive vegan sandwich centers around a turkey alternative made from soya protein. This features alongside vegan bread sauce, roasted carrot and parsnip, cranberry sauce, stuffing and vegan mayonnaise inside sage & onion bread.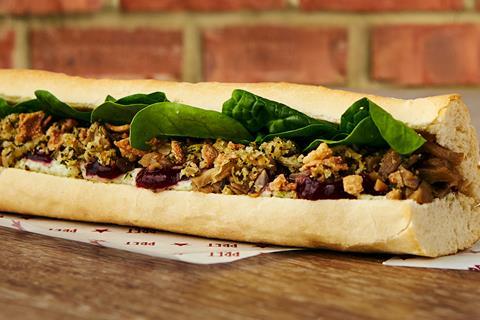 Veggie Pret Vegan Christmas Lunch Baguette
Rsp: £3.75
The first of two new sandwiches exclusive to Veggie Pret, this Christmas Lunch Baguette features shredded oyster mushrooms, sage & pumpkin seed stuffing, port & orange cranberry sauce and a sprinkling of crispy onions. It is finished with fresh spinach leaves and a swipe of vegan sage mayo.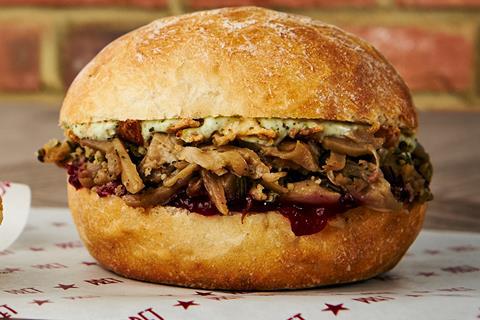 Veggie Pret Vegan Christmas Lunch Hot Roll
Rsp: £3.99
Part of Pret's first Christmas hot food range, this plant-based roll is exclusive to Veggie Pret. Served in a crusty white roll, it features a helping of shredded oyster mushrooms with port & orange cranberry sauce, sage & pumpkin seed stuffing and crispy onions, finished with vegan sage mayo.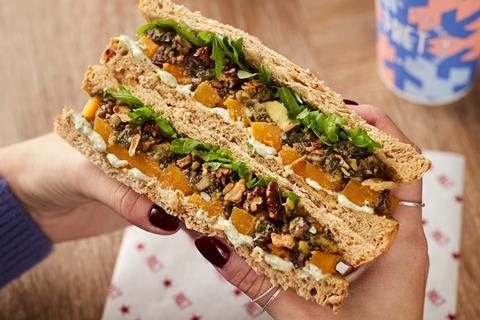 Pret Vegan Christmas Nut Roast
Rsp: £3.69
Pret's jam-packed vegan sandwich features a crunchy Christmas pesto made with pine nuts, chestnuts, pumpkin seeds, sunflower seeds and herbs. It also contains butternut squash, rocket and crispy onions and is finished with sage mayo.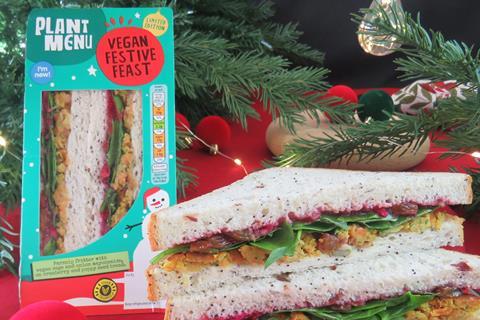 Aldi Plant Menu Vegan Feast Sandwich
Rsp: £1.69
Aldi is adding to its Plant Menu range with this vegan sandwich, which centres around a festive parsnip fritter. It also contains shredded apple, cabbage, sultanas, crispy fried onions, spinach leaves and cranberry chutney, on cranberry & poppy seed bread.