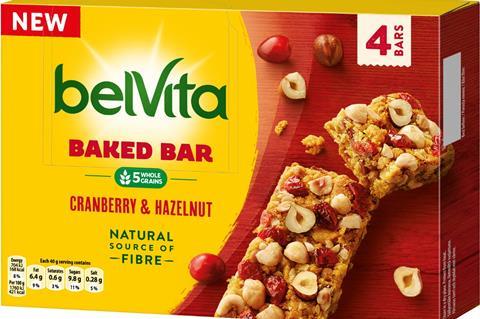 Belvita is moving outside of breakfast for the first time with a new range of baked bars, after a year of plunging sales in the mults.
The brand has created a duo of new bars it claims combine "the best elements of cereal bars and the taste benefits of fruit & nut bars".
Two flavours – Dark Chocolate & Hazelnut and Cranberry & Hazelnut – have rolled out into the mults (rsp: £2.79/4x40g).
The bars themselves combine a soft baked base with whole grains, fruit and nuts, the combination of which Belvita said would "open up the category to consumers who are looking for something a bit different".
Belvita brand manager Mathilde Rossignol said the NPD would "help retailers tap mid-morning snack occasions with a new adult healthier snack bar, growing incremental sales from these shoppers".
The launch would be backed by a "significant" marketing campaign spanning TV, print advertising and in-store activations, said Belvita.
The bars will also carry an on-pack promotion offering shoppers the chance to win cash prizes up to £10,000 between January and April.
The launch comes after a challenging year in the supermarkets for Belvita, which suffered from the drop in impulse and on-the-go snacking sales spurred by the pandemic and lockdowns.
As The Grocer's Top Products report revealed in December, sales across Belvita's range of cereal bars and sweet biscuits were down a combined £12.2m over the year to 5 September 2020 [Nielsen].