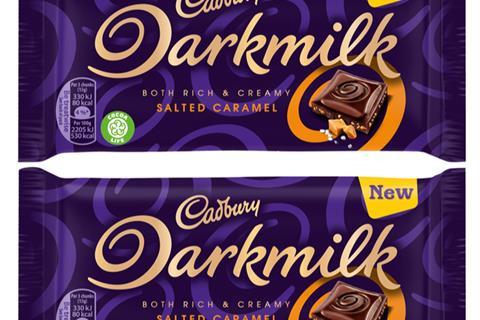 Cadbury looks set to expand its thriving Darkmilk range with Giant Buttons similar to those recently added by stablemate Bournville.
The chocolate giant last month registered artwork for Darkmilk Giant Buttons with the Intellectual Property Office under class 33, covering the likes of chocolate, drinking chocolate, cakes and biscuits.
The design features the same two muted shades of purple as on Darkmilk bars and the same golden-brown logo. It also has an image of two chocolate buttons – a bite having been taken out of one of them – that is identical to the one on Bournville Giant Buttons, albeit inverted.
A spokeswoman for Cadbury owner Mondelez said the supplier was "constantly striving to develop our ranges and bring new exciting concepts to market, not all of which will come to market.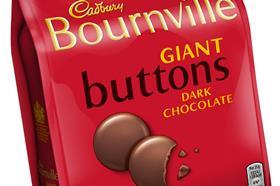 "Cadbury Darkmilk is our creamiest and richest chocolate ever, developed to meet the taste preferences of a more grown-up chocolate consumer, and we are really proud of its success to date."
Were Darkmilk Giant Buttons to land in the confectionery aisle, it would be Darkmilk's first sharing bag since it launched in September 2018 in Original and Roasted Almond.
The high-cocoa milk chocolate has since generated sales of £9m, according to Mondelez, having added a Salted Caramel variant and a Christmas Selection Box.
In April, Mondelez kicked off Darkmilk's first TV campaign, starring former pop singers Kim Wilde and Jason Donovan.
It came a month after Bournville rolled out its own Giant Buttons "to tap the growing trend of dark chocolate".