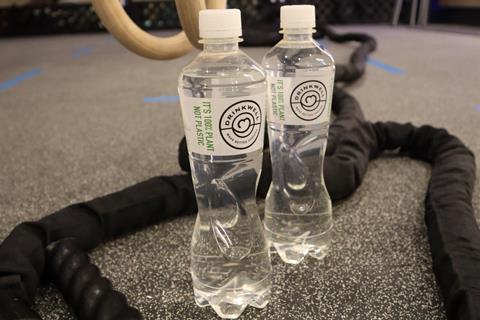 Low-calorie booze retailer DrinkWell has moved into bottled water with what it has claimed is the UK's first fully biodegradable on-the-go water bottle.
The Eco Bottle, which launched yesterday (17 January), is made from polylactic acid (PLA), a plant-based plastic derived from corn starch.
DrinkWell said the pack required 50% less fossil fuel for production, compared with PET plastic bottles, and produced 60% fewer carbon emissions.
The PLA bottle would degrade within three to six months in home or commercial composting, and could be incinerated without releasing toxins, the retailer added.
DrinkWell is wholesaling the water (rsp: £1.79-£1.99/500ml) directly to the on-trade, off-trade and cash & carry market. It will also be working with gyms and leisure facilities.
The brand's founder & MD Tom Bell had spent the past 12 months preparing for the launch, which was "completely left-field for us" he said. "We wanted to bring to the consumers something completely innovative – something they won't have seen before."
The NPD was intended to replace traditional single-use PET water bottles and would appeal to people who weren't able to carry and store a refillable water bottle, Bell added.
Despite the higher price point, consumers were "willing to pay more for a product that is going to be better for the planet" he claimed.
The launch will be supported by a PR and social media campaign, including influencer marketing, with in-store activations to follow.
DrinkWell isn't the only bottled water supplier experimenting with new formats. Evian last week launched its first sparkling water in a 330ml aluminium can.