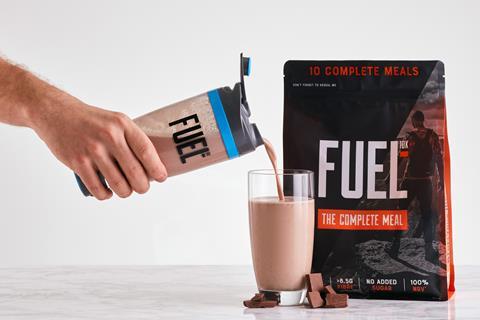 Fuel10K has entered the burgeoning 'future food' category, taking on the likes of Huel through a direct-to-consumer offer.
Available via Fuel10K's website, The Complete Meal is a powered shake "packed with complex carbohydrates, wholegrain oats and flaxseed".
Three no-added-sugar variants – Strawberry & Banana, Chocolate and Vegan Vanilla – come in a resealable 1kg pouch with enough for 10 servings. Each provides more than 26g of protein and 8.5g of fibre, as well as the full recommended daily amount "of 14 essential vitamins & minerals".
When prepared with 300ml of water, Strawberry & Banana and Chocolate provide no more than 2.4g of sugar per 100ml, while Vegan Vanilla has just 0.3g per 100ml.
Each SKU is priced at £19.50 – making them about 19% more expensive per meal than Huel's larger range of powders. Both brands offer a 10% discount via a flexible subscription.
The Complete Meal's official launch this month, following a limited trial in the spring, marks another diversification for Fuel10K from its core portfolio of breakfast options. It came in a bid "to capitalise on the growing trend of convenience and nutrition particularly among our core consumers" said brand co-founder and director Barney Mauleverer.
There was "clear increasing demand for convenient meal solutions" especially among young adults, he added. "This presents the opportunity to offer something really unique and very functional."
Fuel10K's debut in 'smart food' follows a flurry of activity for the nascent category. In April, France's Feed targeted the UK as "a major priority" as it opened its online store of snack bars, confectionery, meal powder, drinks and spreads – with plans to roll out selected products this month to "a local famous retailer".
Also in April, two chilled RTDs from Soylent, the US 'complete nutrition' brand, landed in selected WH Smith stores. Cacao and Café Mocha are formulated to be "a complete meal, packed with 20g of protein and 26 vitamins and minerals".
Meanwhile, the UK's Huel continues to grow its D2C offer. Having added its first RTDs late last year, it reported sales of £40m in the 52 weeks to 31 January 2019, with year-on-year growth of 185%.