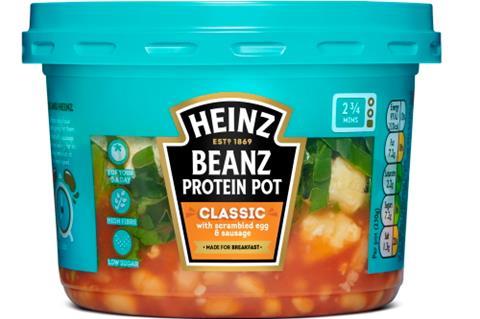 Heinz is jumping on the protein bandwagon.
The baked beans giant is extending its Beanz brand with a range of new on-the-go Protein Pots.
The pots contain a mixture of the brand's beans, sausage and scrambled eggs, ringing in at 235 calories per 230g pot (rsp: £2.50).
They mark the Beanz brand's first ever chilled product, and are being made for Heinz by third party manufacturer Nature's Way Foods.
The NPD was "perfect for consumers that are short on time but still want to enjoy a delicious and high in protein breakfast or lunchtime option", said Heinz Beanz junior brand manager Emily Wright.
The protein pots will roll into fridges in Tesco and Asda from 4 January. Heinz said it hoped they could "drive 70% incremental value across the chilled on-the-go channel".
"Comprehensive" consumer testing "delivered extremely highly against consumer expectations", it added, with 98% of shoppers surveyed by Heinz agreeing it was "a new and different concept compared to other breakfast products currently on the market".
Heinz plans to extend the range with new flavours in the spring.
The launch will be backed by a social and digital campaign.
It comes as the Beanz brand added £25.9m in extra sales over 2020, growing to £229.2m, as shoppers stocked up on canned goods throughout the pandemic.
This month also saw Heinz unveil a slew of launches for Veganuary, debuting a new range called Plant Pantry.
The range adds vegan-friendly SKUs to some of its highest-profile lines, such as a new range of Texan and Original flavour Beanz Burgers, a new Vegan Salad Cream and Seriously Good Vegan Mayo, which rolled out a core mayo alongside two flavours: chilli and aioli.