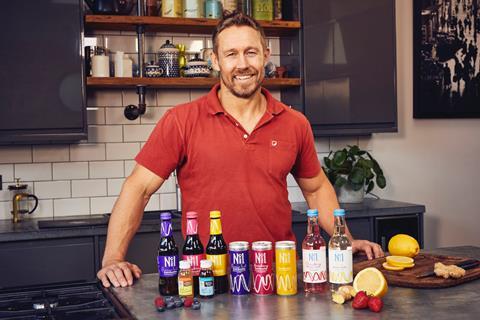 Rugby star Jonny Wilkinson is expanding his No 1 Living range with a range of kombucha shots and kefir waters.
It has launched a duo of kombucha shots, both of which are made with a kombucha base, two billion active live cultures and prebiotic fibre. They have rolled out in two varieties – Gut & Immune Kombucha Health Shot, which also contains vitamins C and D3, and Gut & Brain Kombucha Health Shot, which iodine and vitamins B3, B6, B7 and B12.
The shots were 100% natural, low in sugar and vegan, said the brand (rsp: £2/60ml).
Joining the kombucha shots are two Water Kefirs, which No 1 Living said offered a dairy-free alternative to milk-based kefir and a caffeine-free alternative to kombucha.
Like kombucha, they are made using a scoby (symbotic community of bacteria and yeasts) in the form of kefir grains.
They have launched in two flavours: Strawberry Water Kefir with Rhubarb and Lemon Water Kefir with Yuzu & Mint.
The duo contains four calories per 100ml and is sugar-free (rsp: £2/330ml).
Wilkinson set up the No 1 Living brand in 2018 following a shift in in focus from fitness to a broader view on health.
He said: "What and how I eat, drink and feel is all connected. No 1 Living is based on this idea: the simple notion that by putting our wellbeing first and improving the quality of what we put into our body, we get more out of life".
Both new ranges launched at Sainsbury's and on Amazon this month.