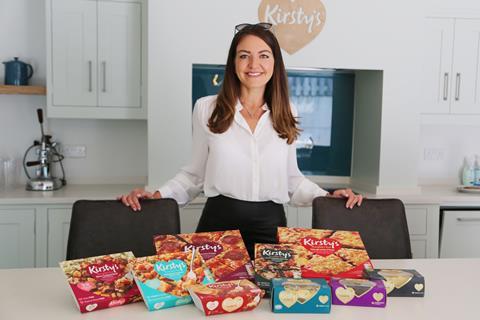 Free-from brand Kirsty's has unveiled plans to significantly expand its range – including its first-ever non-healthy NPD – after opening a massive new allergen-free factory.
The brand opened its facility in Harrogate on 1 August and now plans to launch an "indulgent" takeaway range, expand its vegan offering and target new contract manufacturing deals over the coming months, said MD Kirsty Henshaw.
"Our brand has always been about health, but when I tried making [takeaway dishes] without any red traffic lights I couldn't quite get to what I wanted to achieve.
"The range will be really indulgent curries and Chinese products with a focus on flavour and taste rather than health credentials – after all, free-from consumers aren't that focused on health on a Friday night."
The range will encompass six SKUs. Henshaw said it represented a £3m opportunity.
Its vegan range, meanwhile, will be expanded next year to cash in on the success of existing meat-free options. Vegans were not necessarily the brand's target demographic, said Henshaw, but its vegan dishes such as its lentil cottage pie were now outselling their standard counterparts. Kirsty's also plans to boost its dessert range with a new vegan billionaire slice, which will roll into Asda and Tesco.
"It's going to be award-winning," said Henshaw. "Our desserts are the most luxurious around – we make a crappy margin on them but everybody loves them."
The £2m factory will benefit from a further £1.5m investment next year, which will double its capacity and raise its workforce from 36 to 100.
The brand would look to fill roughly a third of its capacity with "strategic partners" given it could now produce sauces, soups and stews as well as ready meals, she added.