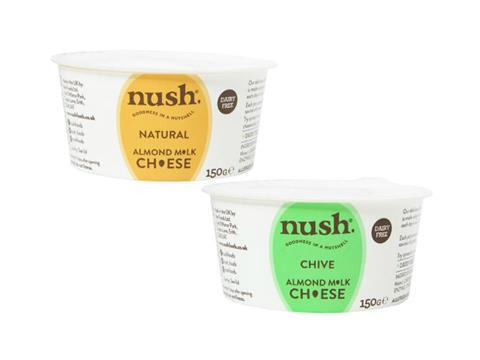 Dairy alternative brand Nush is set to launch its first vegan cheese range made with almonds.

The spreadable 'cheses' will be available in natural and chive variants (rsp: £2.75/150g) and are set to go on sale in Whole Foods Market from July.

Claiming to be the UK's first live vegan cheese, the products are fortified with probiotic cultures to support gut health and are made with Sicilian almond milk seasoned with sea salt.

The products are manufactured in the UK containing 60 almonds per 150g pot, and are both soya and gluten-free.

Nush Spreadable Chese was designed as a substitute for soft cheeses, suitable for use as a cooking ingredient in both sweet and savoury dishes, it said.

The new range is set to launch the brand into the cheese category, taking advantage of the established market for soft white cheeses and growing demand for plant-based alternatives.

"There is growing demand for dairy-free cheese and through our new range, British consumers can now enjoy a delicious vegan offering that contains 30% pure almonds," said Nush co-founder Bethany Eaton.

"It is ideal for a multitude of culinary occasions, whether filling sandwiches or creating dishes in the kitchen."

The cheese alternative line adds to Nush's ranges of almond and cashew nut milk yoghurts.