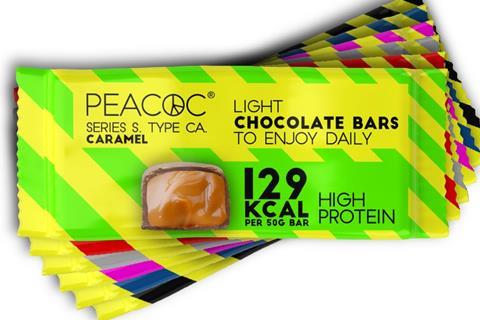 Startup chocolatier Peacoc is launching a range of ultra low-calorie bars it claims can be "enjoyed daily".
Called Series S, the range comprises six chocolate bars – Nougat, Nougat Caramel, Peanut, Coconut, Caramel and Fudge – all containing less than 3g sugar per 50g bar and up to 184 calories.
The bars are made with high-cocoa dark chocolate and use chicory root for sweetness.
They claim to use a maximum of seven natural ingredients and have "massively reduced carbs" compared with others on the market, while being "packed with protein and fibre".
They also contain no added sugar, and had been created with the goal of having the same taste as the nation's favourite chocolate bars "but with a completely clean nutrition label", said Peacoc.
It said the range could be "compared to Tesla or Halo Top" but in chocolate and took the category "to the next level".
The range will launch in January 2021, with limited batches launching for pre-release on 7 and 14 December in boxes of 7, 14 and 25 (rsp: £17.49 - £42.99).
Past years have seen a mass of brands release lower-sugar chocolates in a bid to tap more health-conscious consumers - the most high-profile being Cadbury's 30% Less Sugar Dairy Milk, which is made with soluble maize fibre and launched in 2019.
Nestlé, meanwhile, launched Milkybar Wowsomes in 2018, a sub-brand made with 'hollow' sugar crystals which were billed as reducing sugar content by 30% without affecting sweetness.
However, some lower-sugar chocolates have struggled to make serious inroads - Nestlé ended up axing Wowsomes this year.