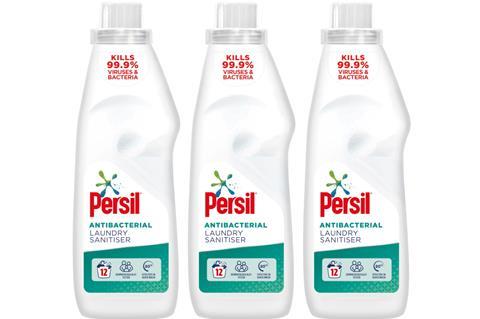 Persil is hoping to lure coronavirus-conscious shoppers with a new Persil laundry sanitiser it claims kills 99.9% of viruses and bacteria.
The liquid is billed as killing bugs and bacteria at temperatures as low as 20 degrees, which Unilever said meant "it not only hygienically cleans clothes but prevents damage that washing at high temperatures to kill germs may cause". Clothes do not need to be pre-soaked for it to work.
Hygiene had "become a top priority for many in recent months, with people looking to keep themselves and their families as safe as possible," said Unilever home care brand experience lead Nadine Slyper.
"People are working to keep their homes hygienically clean and we want to give confidence that they can sanitise their clothes effectively too. This is especially important as people and their families venture out more."
Its bottles are made from 100% recyclable materials and feature "a seamless design" with the liquid having a "clean, crisp fragrance", said the brand.
The NPD has rolled into Asda, to be followed by Ocado next month ahead of a wider retail release in 2021 (rsp: £4.50/1.2 litres).
Sales of antibacterial homecare products have surged since coronavirus hit Britain earlier this year: sales of bleach and disinfectant alone were up by almost a third (32%) – an £8.4m increase – over the first lockdown in spring [Kantar 12 w/e 17 May 2020].