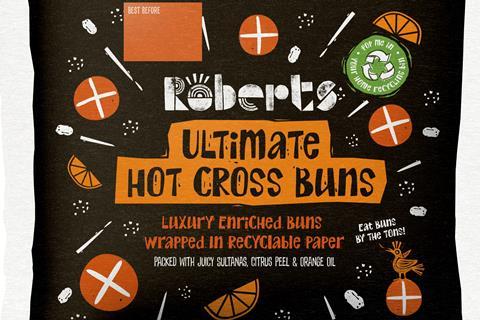 Roberts is marking Easter with hot cross buns made with waste bread – marking the bakery's first foray into reusing ingredients.
Ultimate Hot Cross Buns (rsp: £1.39/four-pack) rolled into Tesco this week, comprising orange oil, sultanas, candied citrus peels and bread ferment made from 'wonky' white loaves that would otherwise have been disposed of.
"UK household food waste is shocking – particularly so around the bread and bakery category," said Alison Ordonez, Roberts director of innovation.
The NPD was in response to the fact "households waste 4.5 million tonnes of food a year that could have been eaten" she added. "Manufacturers are being challenged to do everything we can to overcome what is a pressing environmental challenge."
The Cheshire bakery had previously sent its misshapen bread to be recycled into animal food – but felt "more could be done with it" Ordonez told The Grocer. "We looked at ways we could upcycle the waste from some of our highest volume lines into other products.
"The best and most impactful way to do this is to upcycle our slightly misshapen family-favourite white loaves by adding them into our fermenter as 'food feed' for our starter culture."
The buns' bread ferment is a combination of starter culture, bread crumb, biscuit flour and warm water. It is then fermented at 30°C for 15 hours, and then cooled to 8°C. "When we add it to our hot cross bun dough, it produces a really silky, smooth, elastic dough," Ordonez said.
Ultimate Hot Cross Buns come after high street bakery chain Gail's launched a sourdough loaf in late 2018 made from leftover bread, which is turned into a 'porridge' and added to white flour, malt and a starter culture.
Around the same time, Roberts announced it would pack its loaves in a 100% recyclable wrapper, claiming a first for a UK bakery brand. Its new Easter buns come in paper packaging that can be recycled at home, as Roberts works towards a goal of zero waste and a circular economy.