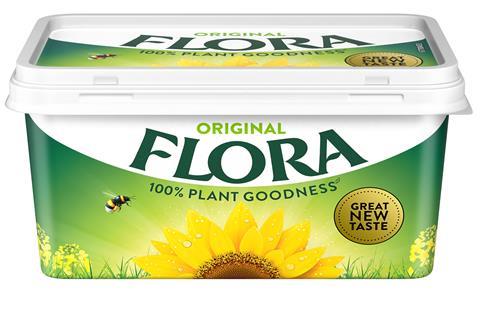 Former Unilever spreads business Upfield has reformulated and relaunched its Flora portfolio as part of a pivot towards 100% plant-based ingredients.
The revamp is the first major investment in the Flora brand since private equity group KKR acquired what would become Upfield from Unilever in December 2017, and will be backed by a "substantial" marketing campaign later this year, it said. The range is due to start rolling out from today (18 March).
Upfield has removed all traces of dairy from the revamped range, while its taste profile had also been improved, it claimed. Flora's new packaging also heralded a return of the sunflower motif to play up the brand's plant-based credentials.
The shake-up means all four of the brand's variants – Flora Original, Flora Light, Flora Buttery and Flora Dairy Free– are now suitable for vegans. Flora Dairy Free is also specifically suitable for those with an allergy to dairy ingredients due to its segregated manufacturing process. A small amount of buttermilk had been present in all but the brand's dairy-free lineup previously.
The new Flora was suitable for spreading, baking and cooking, said Upfield general manager for the UK and Ireland Steven Hermiston. "Plant-based nutrition is at the heart of the Upfield business and Flora, with its plant goodness, is set to lead the charge and marks a key moment for us and the wider category."
And given the difficulties faced by the Unilever spreads division in recent years, the sale of the business to KKR would enable Upfield to become a "much faster and agile company", Hermiston added.
"We're now able to focus entirely on plant-based nutrition and the spreads market, with a big focus on NPD," he said.
Flora in particular was an "incredible iconic brand, but one that had lost its way somewhat", he suggested.
"We have an incredible stable of brands. If we put some love into them and focus, I know we can make them great again."