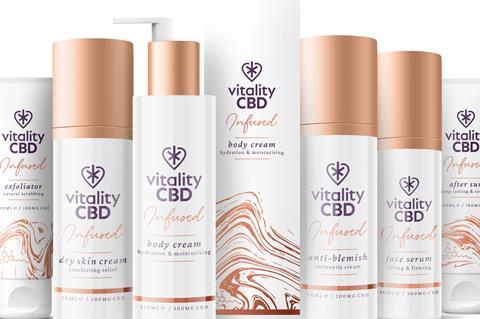 Birmingham startup Vitality CBD has expanded its portfolio with Infused, a personal care range for face and body.
Made from organically grown hemp, the 12-strong lineup includes Bath Bomb, Anti-Ageing Cream, Body Cream, Cleanser and Bath Salts (rsps: £9.99 to £34.99).
Each includes AnnonaSense CLR, a proprietary, skin-friendly ingredient made from the South American cherimoya fruit.
They were made in collaboration with "renowned aesthetic rejuvenation technician Diana Augustoni" Vitality CBD said. "By bringing together premium, well-regarded cosmetic ingredients with CBD harvested from organically grown hemp, Vitality CBD is leading the new wave of CBD cosmetics."
The launch comes in light of Adroit Market Research studies last year that anticipated a compound annual growth rate of 31.3% for the global CBD cosmetics market, from a value of $588.6m (£504.6m) in 2018.
Creating a personal care range "was a no-brainer: the demand is massive" said Vitality CBD MD Nikhil Nathwani. "What distinguishes our Infused range is that we've created strong, standalone cosmetic products before introducing CBD."
It follows the brand's introduction in January of Active, a CBD range aimed at the fitness sector. It comprises four oils and a muscle rub.
The balm had since "consistently been one of our bestsellers, and the product we receive the most positive feedback on" Nathwani said.