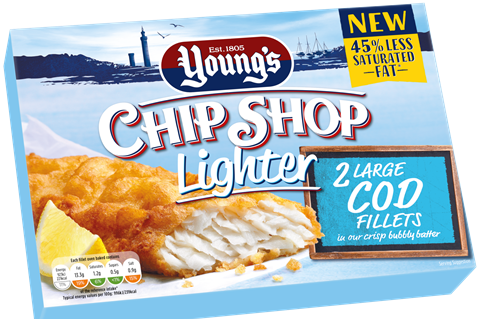 Young's Seafood is to add a Lighter cod variant to its Chip Shop range of frozen battered fish.
Containing 45% less satfat than the standard Chip Shop range, the NPD was aimed at "more health-conscious" shoppers, according to Young's.
The Lighter cod will be available in Tesco, Asda and Waitrose from 16 March (rsp: £2.75/220g), backed by a digital ad campaign. Further products under the Lighter marque will appear later this year.
Satfat was often "a category barrier" for shoppers, said Young's marketing director Jason Manley. Chip Shop's latest addition would "allow more consumers to enjoy a delicious battered fish fillet, without worrying about the fat content".
He added that Lighter was part of a "wider investment" by Young's to reach new shoppers.
So far, this has seen the brand hit TV screens with its multimillion-pound 'Masters of Fish' campaign. It has also given its core range a packaging refresh.