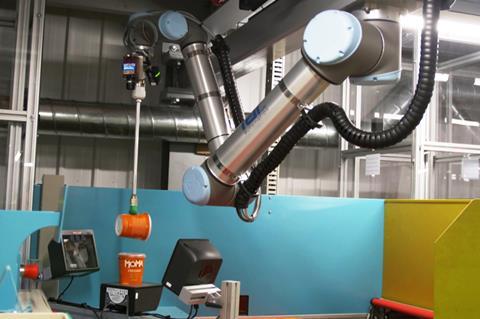 Ocado's plans to use robot pickers to pack orders have been derailed by the fire that destroyed its Andover warehouse.
The online supermarket said in a financial results presentation on 5 February, the day the fire broke out, that the technology would move from testing to live use this year, including at its flagship 500,000 sq ft automated customer fulfilment centre in Erith.
But that's now less likely to happen because the prototypes were held at Andover and destroyed along with the rest of the facility, according to a source.
Robot pickers are able to handle individual products and pack them into totes. They have the potential to replace humans who work alongside the "swarming robots" that transport packed totes around a grid-like structure in Ocado's automated CFCs.
The robot pickers were described as the technology that would take Ocado's efficiency "to another level" by the company's chief financial officer Duncan Tatton-Brown last year.
Ocado has been developing the technology for several years. Last year the firm's chief technology officer, Paul Clarke, spoke of the importance of perfecting the prototypes in a testing phase at Andover before rolling them out into live use. "It's exactly the same as making 10 copies of a document," he said. "You try to get the typos out before you start."
Firefighters battled for two days to bring the blaze under control after it broke out on a section of the grid at Andover. Ocado continues to offer a reduced service in areas previously served by the facility, using a smaller warehouse to receive orders packed at Erith.
The source said it had not yet been determined whether the facility would be rebuilt at the same location.
Ocado is in any event expected to announce the location of a new CFC, which would have been its fifth before Andover was destroyed, in the first half of this year.
The news of the technology setback follows M&S's acquisition last month of half of Ocado's UK retail business for £750m. The deal will see the upmarket retailer's products replace Waitrose's on Ocado's website from September next year.