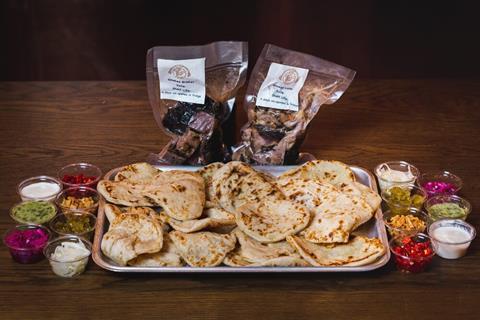 Events booking platform Feast It has launched a new marketplace offering meal kits from its restaurant and catering partners.
The Deli lists gourmet meal kits from Cue Point, Pizza Pilgrims, Lima, Caper & Berry and Cheeky Burger, which come with instructions from chefs on how to put together the kits at home.
Most of the kits, which are delivered by the restaurants or their third-party couriers, are available nationwide.
Kits can be purchased for £15, up to an £80 three course steak and lobster kit, and can feed a range of diners, up to six people.
"We've launched Feast It Deli to try and help out the wonderful restaurants and caterers we're working with. We carried out an impact study a few months ago where 61% of our suppliers told us they would go under by March without further government support and as that has not been particularly forthcoming, we have set up Feast It Deli to try and help the hospitality and events industries at this time," said Feast It founder Hugo Campbell.
The platform is expected to grow to include craft breweries and for food providers to sell goods such as sauces, general ingredients and merchandise.
Feast It is taking a 10% commission on kits sold, which will be funnelled back into marketing the new site.
Demand for meal kits has spiked during the pandemic. Recipe box provider Gousto in November achieved 'unicorn' status, after raising £25m of new equity. The company doubled its monthly meal deliveries from 2.5 million in January to five million by June last year.
In November, Nestlé acquired a majority stake in recipe kit business Mindful Chef. Revenues at Mindful Chef are on track to hit £50m after the Covid-19 crisis led to a huge spike in demand, according to the company.
The Deli serves a different market than typical meal kit providers, Campbell said, the focus being on the 'event' of cooking a restaurant quality meal at home.
Founded in 2017, Feast It connects consumers and events planners to caterers and suppliers. Clients include Facebook, Amazon and Nike, and they have secured suppliers for parties thrown by Taylor Swift, George Clooney and Angelina Jolie.
Investors include Richard Pennycook, ex-CEO of Co-op and Chairman of the Hut Group and Guy Berryman, bassist of Coldplay.
In response to the lack of events due to the pandemic, the company has pivoted into offering virtual events, bookable on the platform including cocktail masterclasses, wine tastings, cook-alongs, craft classes and drag bingo. Last month, it partnered with chefs Tom Kerridge, José Pizarro, Neil Rankin, Ollie Dabbous, Jack Stein and others to offer bespoke, hour-long classes and cook-alongs.
"We cannot wait for events to come back, bigger and better than ever. But in the meantime it's so important that we keep supporting this incredible industry to make sure it's there for us on the other side," said co-founder Digby Scott.
"A meal kit bought through The Deli is an investment into a functioning restaurants and events industry as soon as normality resumes," he added.