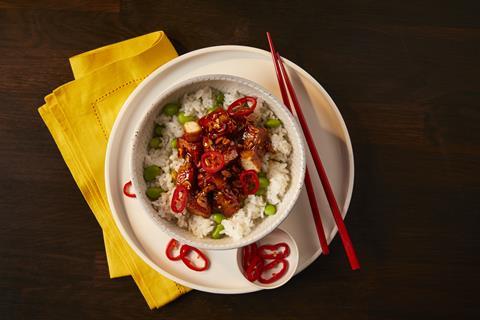 Marmite is partnering with Gousto to include the spread in a selection of seven limited-edition recipes.
The recipes offer "umami twists to much-loved dinner classics" and have been created by Gousto chefs.
The range includes vegetarian recipes like the Marmite Teriyaki Popcorn Tofu and Marmite Mushroom Carbonara, as well as Marmite Fried Chicken and Marmite & Peanut Butter Pork Udon. The recipes are available from today.
Also featuring is what Marmite brand manager Sophie Allan called "the ultimate love/hate recipe": Marmite Pineapple Pizza.
"By partnering with Gousto, we're really laying down the gauntlet to all the haters out there and giving the lovers a chance to cook up a storm in their kitchens," Allan said. "These new recipes are bound to stir up dinnertimes."
It is a less unlikely tie-up than Marmite's recent partnerships. In June Marmite linked with deodorant brand Lynx to launch a Marmite-scented body spray. Last year, Unilever launched what it called a 'ground-breaking' peanut butter spread – a blend of roughly 90% nut butter and 10% yeast extract.
The collaboration follows Gousto's partnership with Wagamama last year that enabled Gousto customers to cook the chain's most popular Japanese restaurant dishes at home.
"Now more than ever, our customers are looking for richer cooking and mealtime experiences and this partnership with Marmite will help provide just that," said Gousto food director Kathryn Huxtable. "We're making it easy for home cooks to master something a little different in the kitchen and we hope they'll feel inspired by these new – and sometimes quirky – flavour combinations that are so delicious, they may even tempt the Marmite haters."
Gousto is expecting to report its first annual profit this year. It plans to triple capacity by 2022 and hire an additional 1,000 people.
The full recipe range is:
Marmite Pineapple Pizza
Marmite Cheese Pinwheels & Baked Potato Soup
Marmite Fried Chicken, Chips & Apple Slaw
Cheesy Marmite Spaghetti Meatballs
Marmite Teriyaki Popcorn Tofu & Sticky Rice
10-Min Marmite & Peanut Butter Pork Udon
Marmite Mushroom Carbonara