This Christmas, Sainsbury's Taste the Difference festive range brings innovative twists on classic British winter flavours.
From charcuterie centrepieces to themed party food, the range also includes four new free-from desserts to ensure you're the host who's thought of everything.
"We understand lots of us are tightening our purse-strings," says director of product & innovation Claire Hughes. "Sainsbury's is committed to keeping prices low on everyday items while continuing to deliver the delicious innovation you know and love."
Party food
Naughty & Nice Chicken Chunks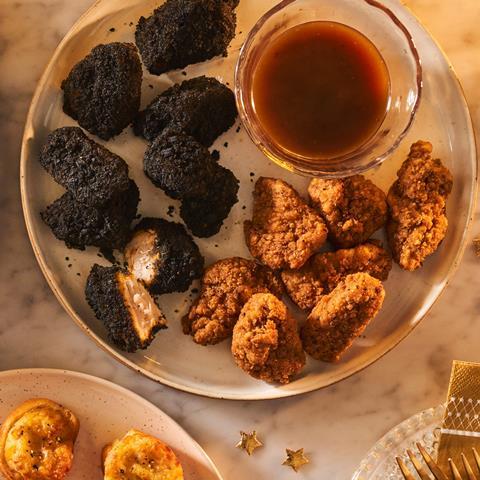 £5.25
Available 15 November
British chicken breast chunks coated in either 'nice' southern fried breading or 'naughty' charcoal, salt & chilli – all drizzled with spiced blossom honey sauce.
Cheddar & Truffle Ciabatta Crostini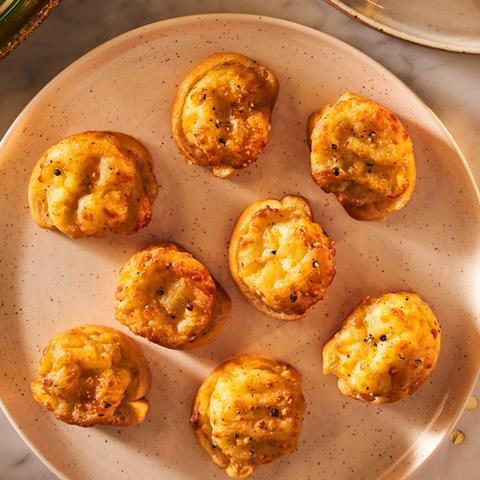 £5.25
Available 15 November
Mini ciabatta crostini made with extra virgin olive oil, topped with four cheese sauce and infused with black summer truffle and truffle-flavoured oil.
Posh Prawn Toasties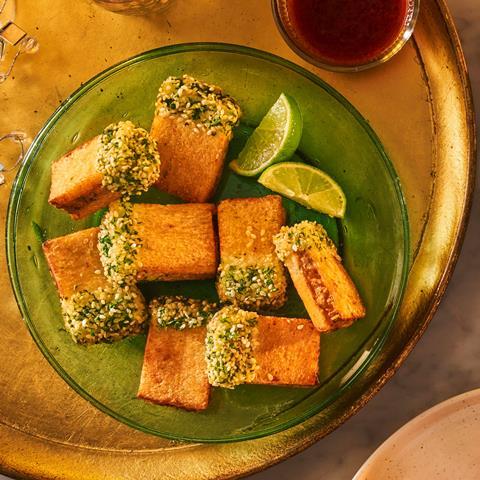 £5.25
Available 15 November
Hand-crafted, seasoned king prawn filling sandwiched between crispy bread layers and paired with ginger, garlic and lemongrass dipping sauce.
Baos of Holly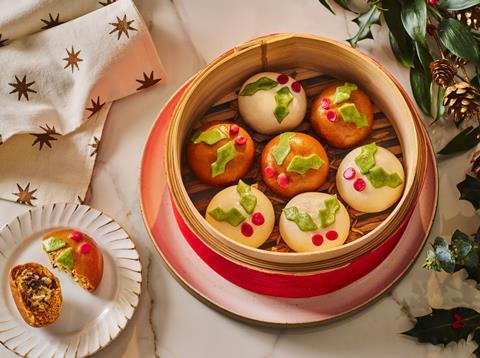 £6
Available 15 November
Hand-crafted bao buns shaped and decorated like Christmas puddings, filled with wood ear mushrooms, water chestnuts, carrot, spring onion and ginger.
Smoked Haddock Rarebit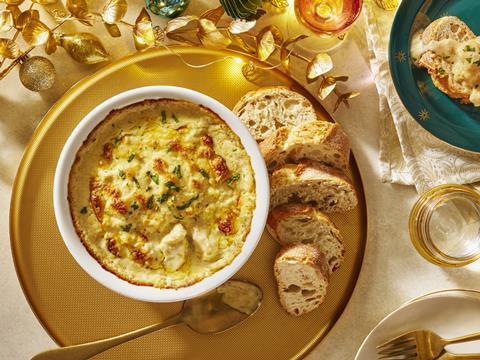 £10
Available 8 December
Flakes of smoked haddock in a vintage cheddar and ale sauce, with English and wholegrain mustard.
Mains
Slow Cooked Buttermilk Turkey Crown with Maple Cured Bacon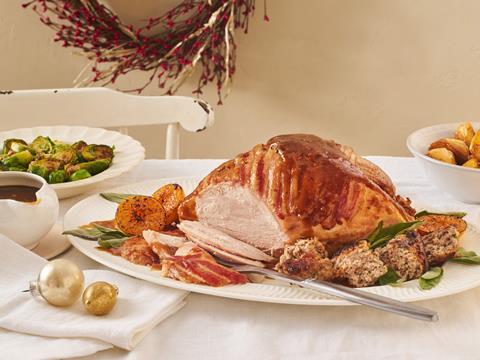 £45
Available 27 November
Buttermilk brined British turkey crown wrapped in maple cured bacon, served with a sous vide slab of buttery sage and onion stuffing. Ready in 90 minutes.
Dry Cured Gammon with a Wildflower Honey Glaze and Melting Honeycomb
£20
Available 14 November
A dry-cured gammon joint from outdoor-bred pigs, with a wildflower honey glaze and a melting piece of honeycomb.
Slow Cooked Beef Short Rib with Bone Marrow Jus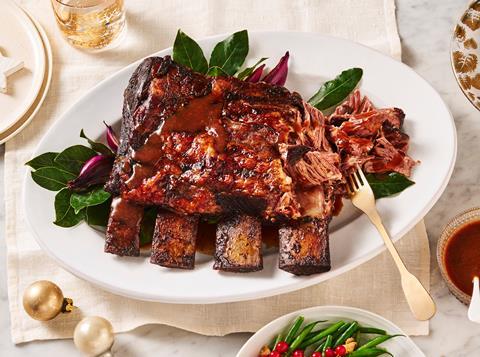 £38
Available 18 December
Short rib of beef coated in garlic and mixed herbs, then slow-cooked for eight hours on the bone. Cook in the oven for 90 minutes and pair with the rich bone marrow jus.
No Beef Wellington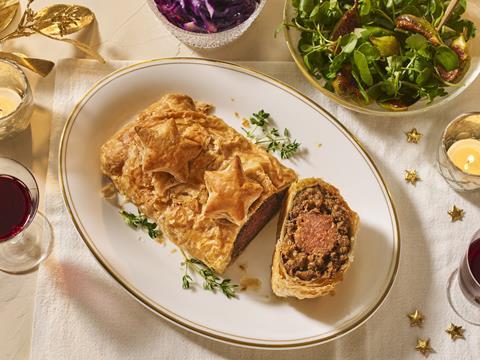 £6.75
Available 15 November
A mushroom and pea protein joint, paired with tender leaf spinach and a rich mushroom and port wine duxelles, hand-wrapped in puff pastry.
On the go
Christmas Cracker Club Sandwich
£4.50
Available 30 October
Shredded smoked chicken, smoked bacon, pork, sage & onion stuffing, spiced cabbage and real ale chutney in three slices of toasted bread, topped with a gravy mayo.
Grazing
Rocking Around the Charcuter'tree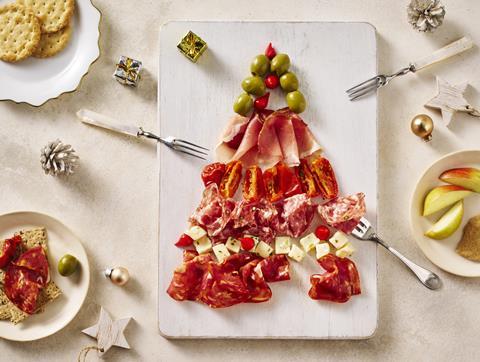 £6
Available 15 November
Create-your-own Christmas tree charcuterie board with marinated iberico cheese, semi-dried tomatoes, olives and sweet red pepper drops.
Cheesemonger Selection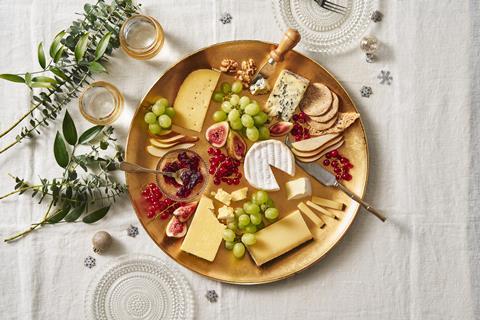 £15
Available 22 November
Barbers Farmhouse Extra Mature Cheddar
'A complex, robust flavour, matured up to 13 months'
Fior Delle Alpi
'Swiss cheese with a fruity yet spicy flavour'
Mon Petit Creamy
'Soft ripened, decadent and smooth cheese made in Franche-Comté, France'
Blue d'Auvergne
'Rich and tangy French blue with a creamy texture'
Truffle Gouda
'Smooth and buttery Dutch gouda, made with Italian truffles'
Mature Blue Stilton Centrepiece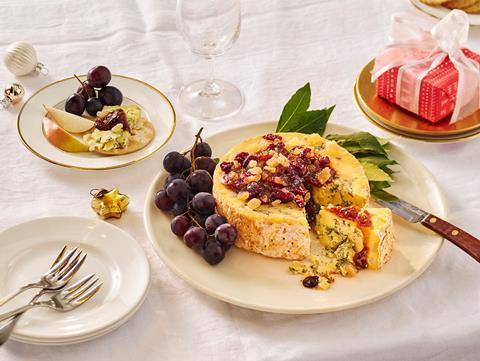 £9
Available 22 November
Mature British Stilton, with a fig and honey glaze to pour over and then top with crystalised ginger and cranberries.
Desserts
Home for Christmas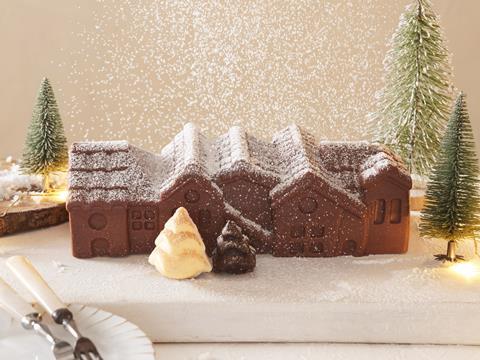 £12
Available 20 December
Belgian chocolate mousse in a snowy, nostalgic village setting shape, with a hidden centre of salted caramel sauce and crunchy biscuit balls.
Chocolate Orange Snowflakes
£12
Available 20 December
Belgian chocolate mousse and orange in snowflake shapes, with a hidden centre of chocolate sauce and a crumbly shortbread topping.
Melt in the Middle Salted Caramel & Chocolate Bombe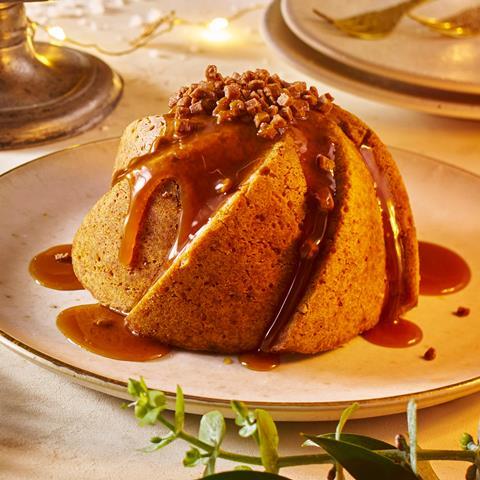 £9.50
Available 24 September
An alternative to a traditional Christmas pudding. A buttery caramel flavour sponge, with a hidden Belgian chocolate ganache centre, warm salted caramel sauce and a sprinkling of crunchy chocolate fudge-style pieces.
Spruced Up Sticky Toffee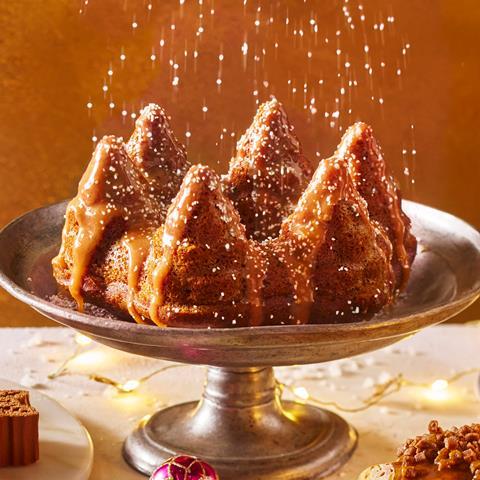 £10
Available 20 December
All-butter sponge made with sweet dates, topped with salted caramel sauce and sugar snow sprinkle.
Tipsy Toffee Caramel Pies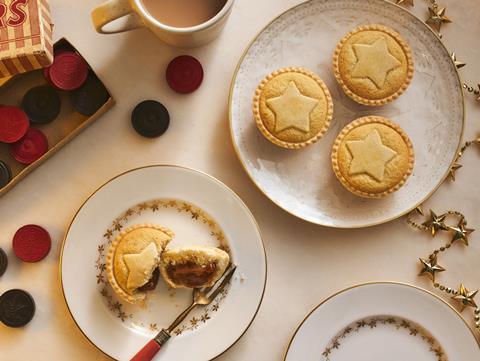 £2.75
Available now
An alternative to the classic mince pie. A layer of spiced caramel sauce and a frangipane top, soaked with dark rum – in all-butter pastry with a festive star decoration.
Free From Salted Caramel Chocolates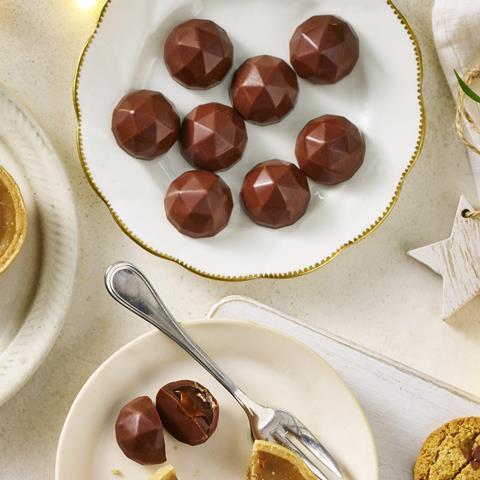 £3.50
Available now
A blend of sustainably-sourced cocoa and cocoa butter, with sea salt and caramel. Gluten and milk-free.
Free From Sticky Toffee Tarts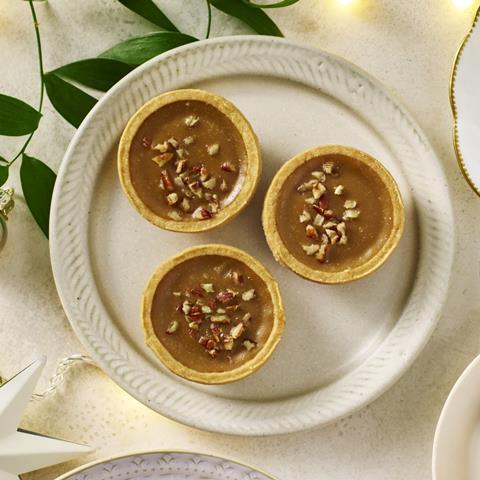 £3.25
Available now
A crumbly pastry case filled with a sponge pudding and topped with pecan pieces and salted caramel. Gluten and milk-free.
Free From Ginger & Chocolate Tiffin
£3.00
Available now
Stem ginger and ginger biscuits topped with Belgian dark chocolate. Gluten, milk and egg-free.
Free From Caramelised Biscuit & Orange Cookie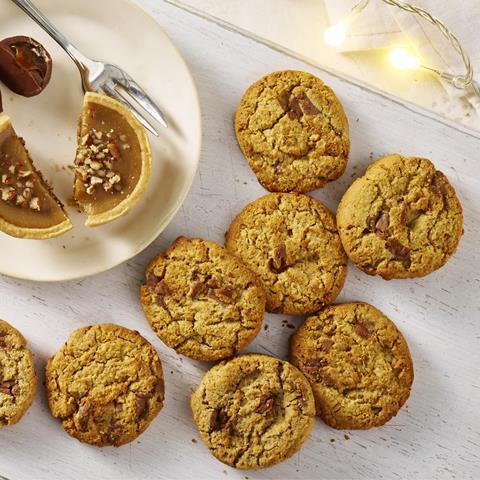 £2.50
Available now
All-butter cookies with Belgian milk chocolate chunks and Sicilian orange. Gluten-free.
Light Up Bauble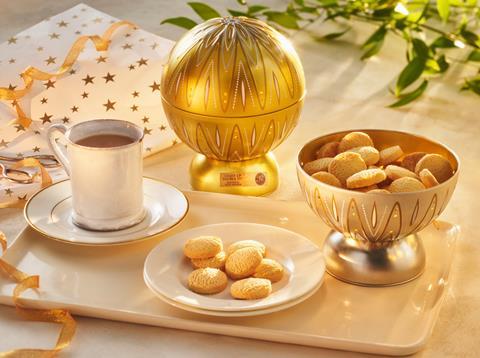 £8
Available now
A decorative art deco light-up bauble tin with Taste the Difference mini shortbread rounds. Available in gold or silver.
Drinks
Sticky Toffee Rum Liqueur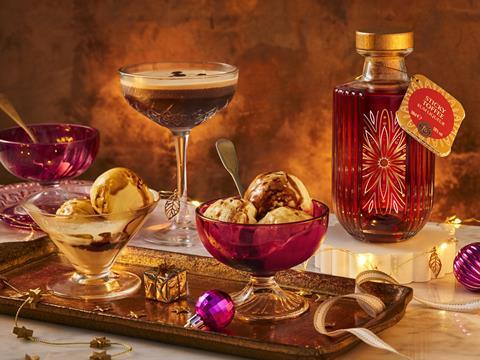 £15
Available now
Caribbean rum and sweet toffee liqueur.
Ready to Drink Berry Bramble Cocktail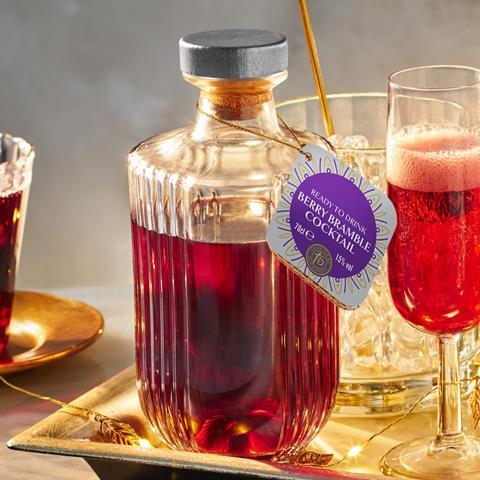 £15
Available now
Blackcurrants, blackberries and elderberries, mixed with gin and lemon.
Blackcurrant Gin Liqueur with Raspberries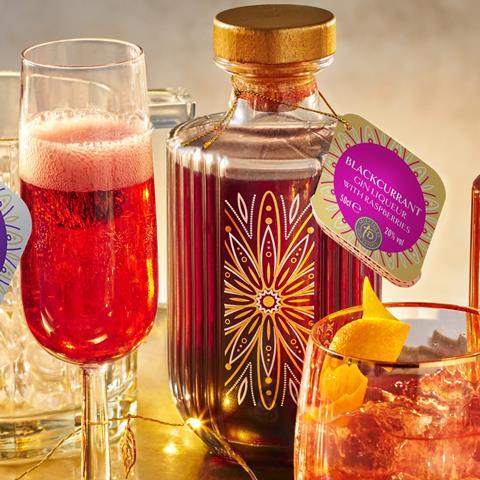 £15
Available now
Blackcurrant gin liqueur with Scottish raspberries.
Mandarin Gin Liqueur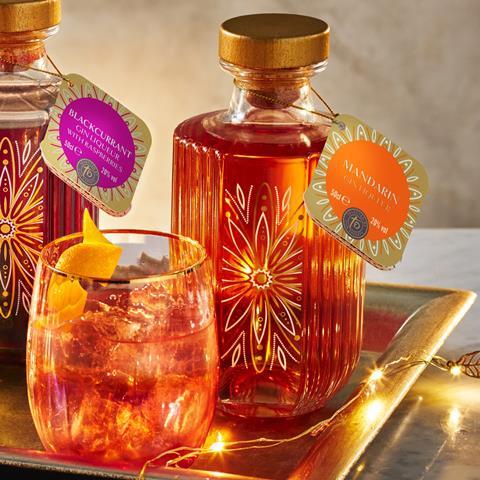 £15
Available now
Natural mandarin-flavoured gin liqueur with hints of ginger, cinnamon and cardamom.
Discovery Collection Dolcetto d'Acqui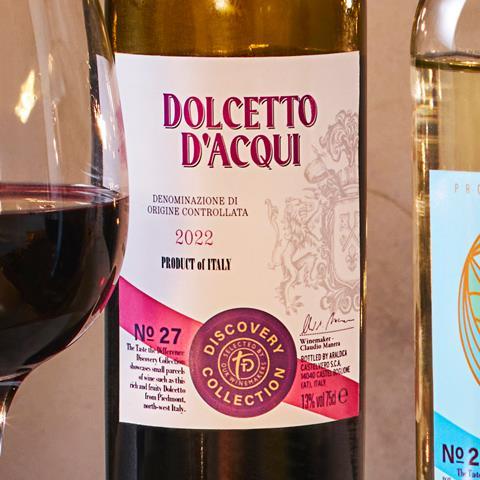 £11
Available 8 October
This Italian wine has fruit flavours with ripe tannins and zippy acidity from specially selected dolcetto grapes.
Discovery Collection Verdeca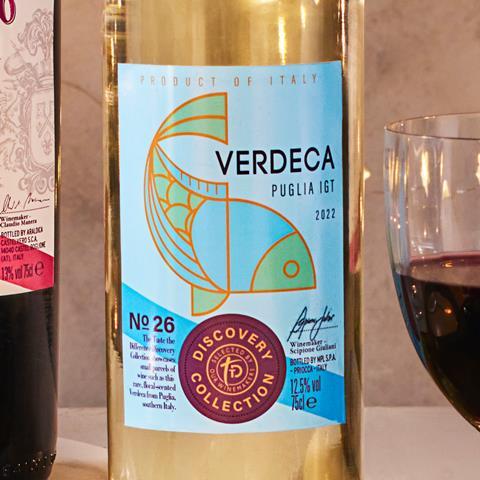 £8.50
Available 8 October
From Puglia, this Italian white wine is well paired with seafood.
Discovery Collection Patagonian Pinot Noir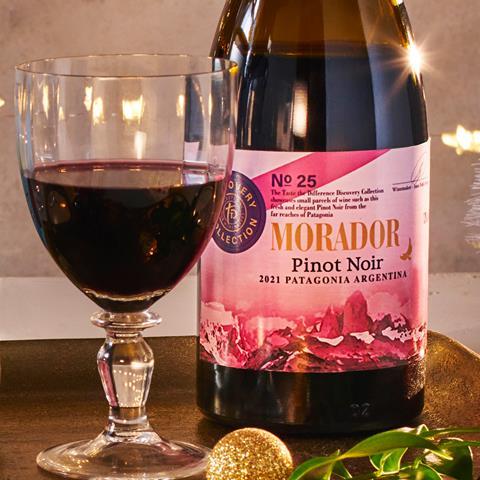 £16
Available 8 October
From the southernmost region of South America, a pinot noir with red berry fruit and savoury hints.