It may be a heatwave in July, but the first of the own label Christmas ranges has dropped. This year, the accolade for being the first goes to Tesco, which is planning a huge range of culinary festive treats for celebrations both big and small.

Here's our pick of the range
Centrepieces
Finest Whole Lamb Leg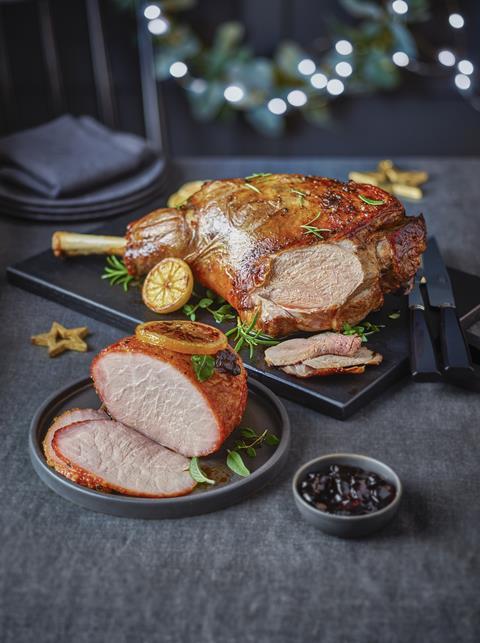 Rsp: TBC
A whole leg of lamb with a sea salt and peppercorn rub and rosemary sprig, finished with a mulled wine drizzle. This family-friendly leg weighs in at between 1.7kg and 2.7kg and serves up to six people. It goes on sale from 13 December.
Finest Christmas Tree Scottish Salmon Wellington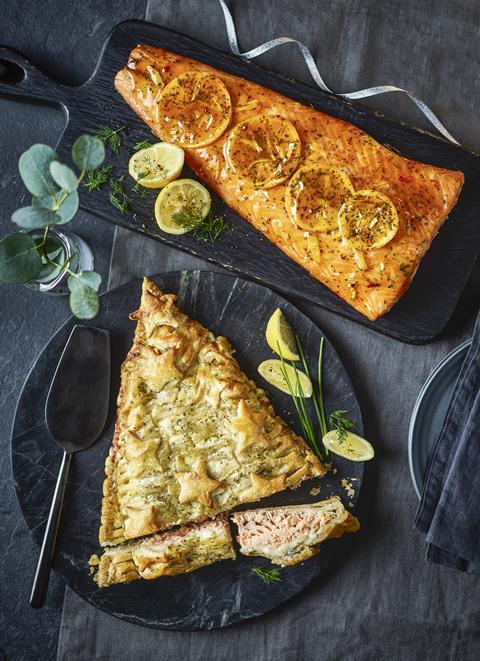 Rsp: £14/875g
Scottish salmon, paired with a delicate zesty white wine and lemon sauce, for an extra juicy fillet. The fish comes wrapped in golden, crisp puff pastry in the shape of a Christmas tree bedecked in stars. It serves four and hits shelves from 13 December.
Finest Easy Carve Duck with Maple & Orange Glaze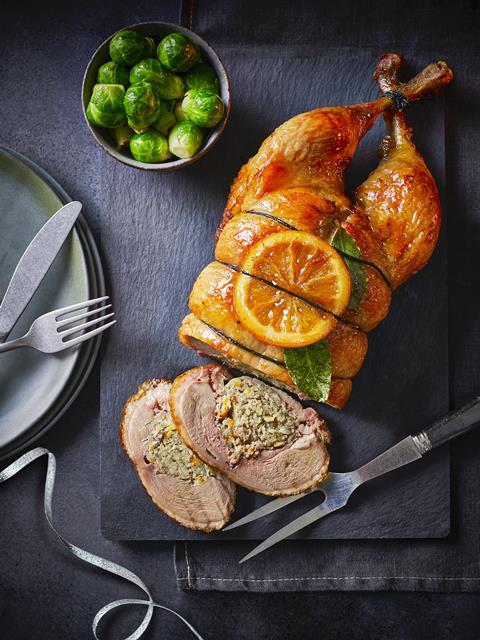 Rsp: £25/1.6kg
A rich and tender duck finished with a sweet orange and maple glaze, complemented with a British pork, orange and maple stuffing, says the retailer. The easy carve bird is hand-cut and trimmed, then prepared by skilled butchers from a family-run company with more than four decades of experience. It serves five and goes on sale from 19 December.
Tomahawk Steak with Garlic Butter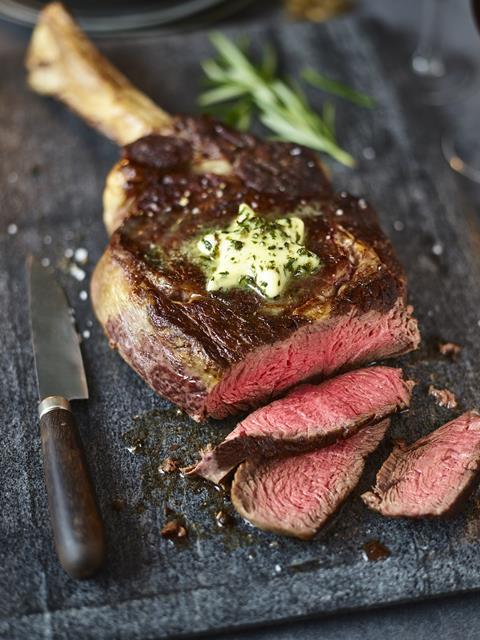 Rsp: TBC/1.4kg-1.75kg
Succulent 21-day aged tomahawk steak, matured on the bone to maximise flavour and served with a star-shaped wild garlic and sea salt butter to deliver mouthwatering flavour. It goes on sale on 13 December.
Sides
Finest Pork, Dark Cherry & Smoked Chestnut Garland Stuffing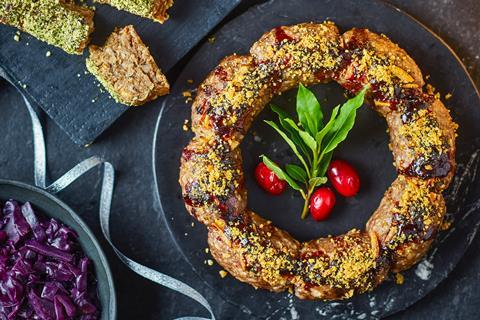 Rsp: £6/500g
Pork stuffing made with port, "delicately smoked" chestnuts, dark cherries and dates, finished with a mulled spiced dark cherry sauce and a garnish of candied orange zest and herbs. Tesco suggests adding a pork crackling crumb before serving for a homemade flourish. This meaty wreath will serve up to 10 people and goes on sale from 22 November.
Lobster Mac & Cheese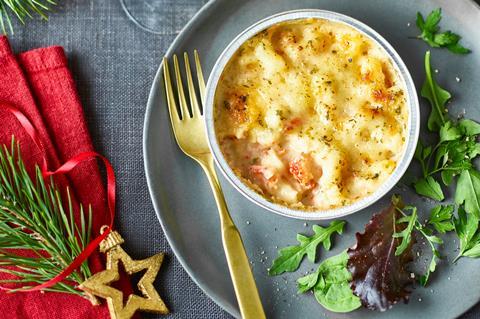 Rsp: £3.50/2x100g
Why should lobster just be for Christmas? This luxury pasta dish goes on sale around 13 September for all those who just can't wait. Tesco describes the product as a "truly decadent" twist on a classic with short macaroni covered in a "rich and creamy cheese with sweet and succulent Canadian lobster pieces".
Finest Hollandaise with Champagne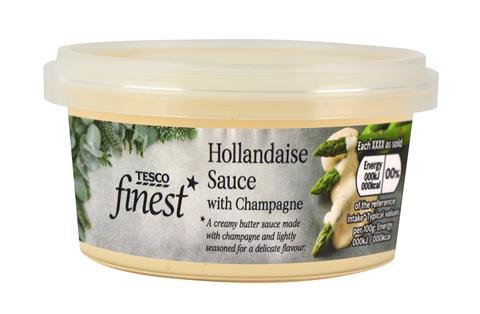 Rsp: £1.50/120g
A "rich and indulgent" hollandaise sauce, infused with champagne for that extra Christmassy twist. The sauce is designed as an accompaniment to Christmas brunch stalwart smoked salmon and eggs Benedict. It hits shelves from 13 December.
Finest 3D Giant Xmas Tree Stuffing with Crunchy Herb Topping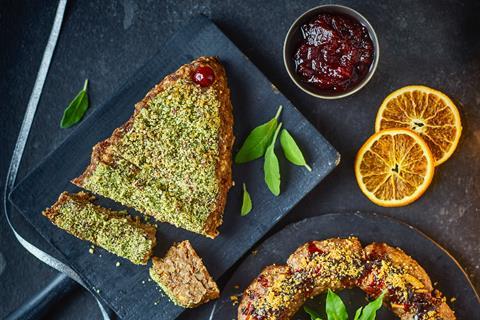 Rsp: £5/400g
An eye-catching centrepiece for the festive season, this pork, plum, date and brandy stuffing is shaped like a Christmas tree and garnished with a herby crumb and cranberry hearts. It serves up to six and launches around 22 November.
Finest Bread Sauce with Sourdough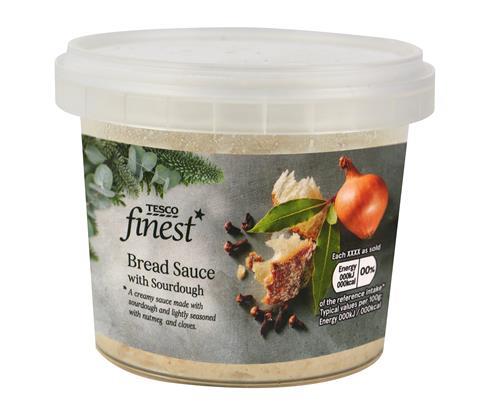 Rsp: £2/300g
"Rich and creamy" sourdough bread sauce with hints of nutmeg and onion, topped with a decadent sourdough crumb. It will be available from 13 December.
Desserts
Speculoos Profiterole Gateau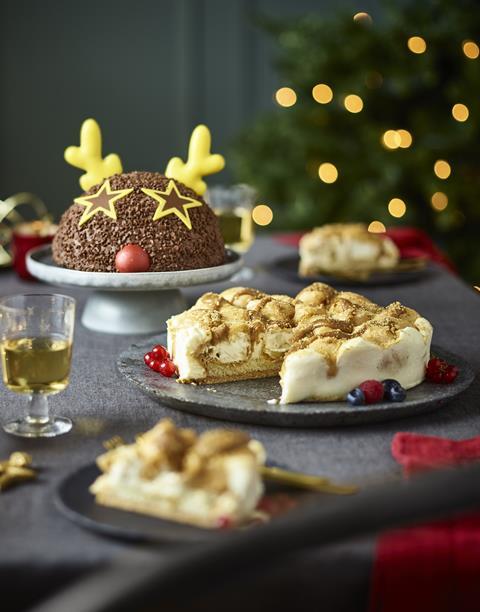 Rsp: £4/800g
A celebration of trendy Speculoos biscuits. The retailer has opted for a moist sponge layered with a silky sauce, both infused with the fragrant spices of Speculoos and topped with creamy profiteroles and crushed Speculoos biscuits for a satisfying crunchy finish. The gateau serves 12 and goes on sale from 1 November.
Finest Crumble Topped Mince Pies with Salted Caramel & Festive Spice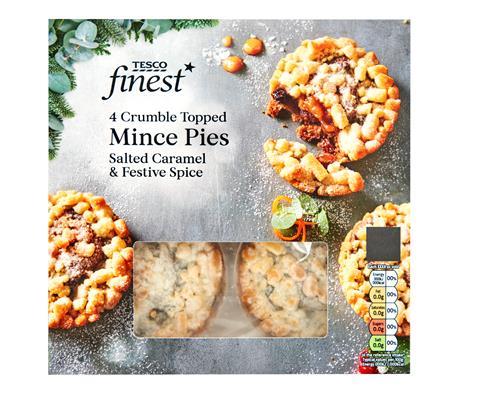 Rsp: £3
Start the festivities early with an indulgent twist on the Christmas classic, ideal for those with a sweet tooth, says Tesco. Its fruity mincemeat and salted caramel sauce pies go on sale in mid-September. They come encased in fragrant, golden pastry, topped with a buttery crumble and a delicate dusting of sweet snow.
Party food
Finest Mini Aberdeen Angus, Pulled Beef & Mexicana Burgers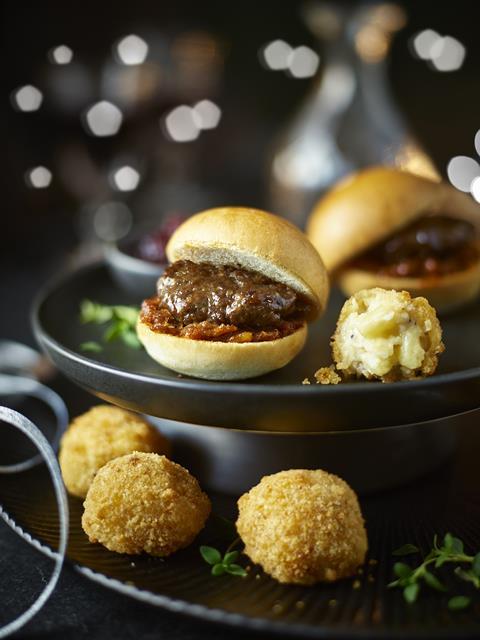 Rsp: £6/304g
Tesco says its American-inspired mini sliders are "full and flavourful", made from rich Aberdeen Angus beef, garnished with juicy pulled applewood beef, sweet barbecue sauce and sharp Mexicana cheese and sandwiched between mini kibbled onion rolls. They roll into stores from 11 October.
Cheddar, Red Leicester, Lemon Chilli Star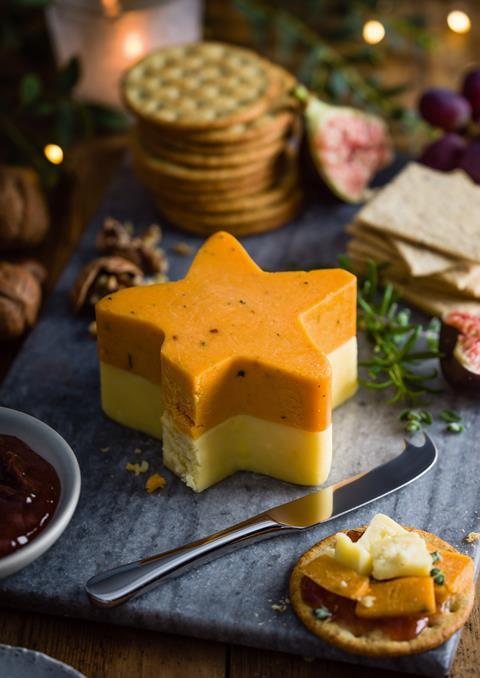 Rsp: £2.50/250g
Adding a twinkle to the Christmas cheeseboard has rarely been so easy with with this layered star of medium cheddar and red leicester, with a mild hint of chilli and lemon. The truckle hits stores from 15 November and serves eight.
Finest Cheese Selection on a Slate Board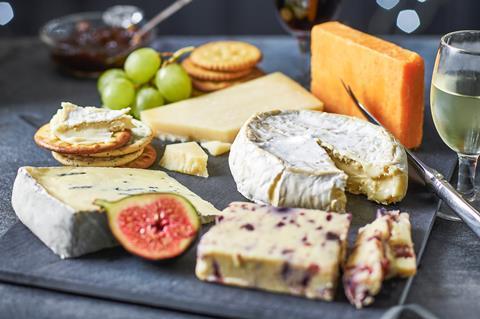 Rsp: £10/540g
A selection of hard and soft British and continental cheeses with tasting notes, specially chosen to create a festive cheeseboard. It includes soft and ripened Somerset brie, Wensleydale with sweetened dried cranberries and dried blueberries, extra mature red leicester, montagnolo affiné and Swiss reserve le gruyere. The party-sized platter goes on sale from 15 November.
Supermarket Christmas ranges 2021
1

2

3

Currently reading

Range preview: Tesco Christmas food 2021