Waitrose is significantly expanding its meat-free offering today (8 September) with the unveiling of two new ranges, Plantlife and GoVeggie. The brands carry the tagline 'helping you live holistically', and promise 'no-compromise', 'full of flavour' food that makes veggie and vegan eating easy. According to the retailer's product developer Simona Cohen-Vida, "our aim was to create delicious, high-quality products with satisfying textures and bold flavours, from comforting, nostalgic dishes to innovative formats and flavours".
Offering a combined total of 36 new products, covering ready meals, meat alternatives, side dishes, snacking options and desserts, it is the retailer's largest launch of vegan and vegetarian products to date. We take a look at what's on offer.
Plantlife
Crisp-Crumbed Mac Bites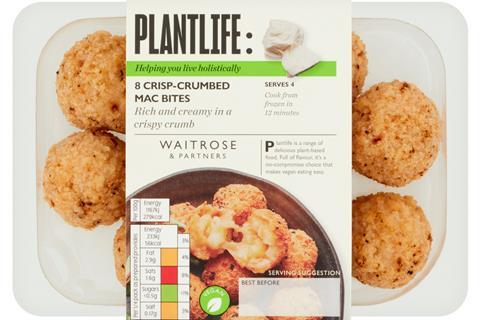 For a quick vegan starter or light bite, these frozen mac and cheese balls can be popped in the oven and cooked in around 10 minutes. They feature a centre of macaroni in a 'rich and creamy' sauce, coated in crispy breadcrumbs with a hint of chilli (rsp: £3/160g). They are joined in the freezers by Crisp-Crumbed Green Vegetable Bites (rsp: £2.50/240g), Bean Burgers (rsp: £2/454g), Vegetable Crispbakes (rsp: £2/454g) and Seeded Crumbed Seitan Tenders (rsp: £2.50/200g).
Crispy No Beef with Sweet Chilli Sauce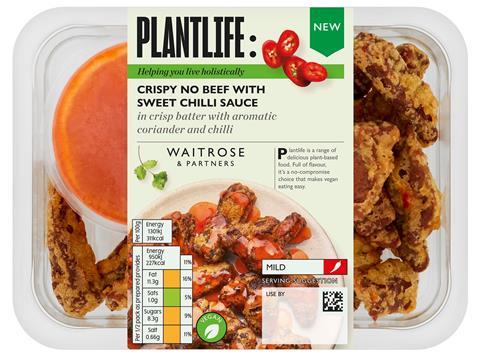 A plant-based take on the Chinese retaurant classic, this Crispy No Beef is made from soya and wheat in a crisp coriander and chilli batter. The strips come with a mild, sticky sweet chilli sauce for drizzling or dipping (rsp: £3/150g). Shoppers could also combine these with the new No Duck Spring Rolls (rsp: £3/216g) for a fakeaway feast.
Moussaka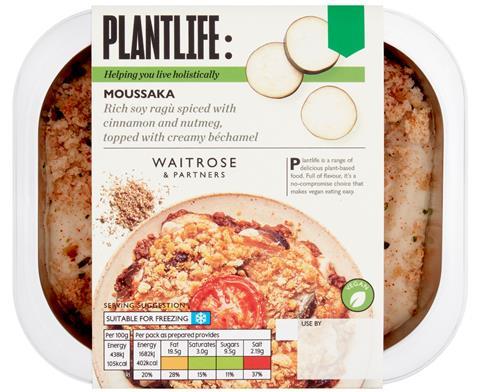 Waitrose has recreated this classic Greek dish minus the central ingredient: lamb. This has been replaced with soy mince in a rich ragu, spiced with warming herbs such as cinnamon, nutmeg and bay. The ready meal also features slices of potato and aubergine, topped with creamy béchamel sauce, sliced tomato and a paprika crumb (rsp: £3.50/400g). Other ready meals in the range include Smoky Vegan Chilli with Rice (rsp: £3.50/380g) and No Beef Bourguignon with Mash (rsp: £3.50/400g).
Dauphinoise Potatoes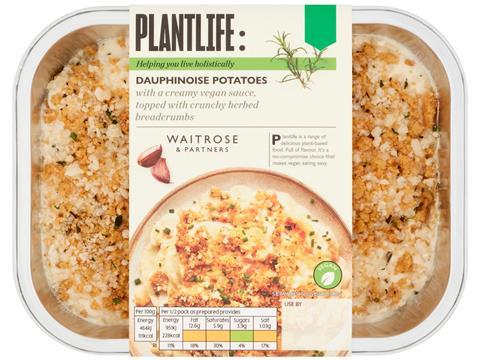 Dauphinoise Potatoes are traditionally a dairy-heavy dish made with butter, milk and cream. But not this version. Waitrose has instead combined layers of thinly-sliced potato with a creamy vegan sauce flavoured with garlic, topped with a sprinkling of crunchy herb breadcrumbs (rsp: £2.75/400g).
The Plantlife range also includes:
No Chorizo Tortelloni (rsp: £3/ 250g)
Mushroom & Lentil Bolognese Cannelloni (rsp: £3.49/300g)
Mediterranean Style Vegetable Sausages (rsp: £3/280g)
Mushroom & Leek Sausages (rsp: £3/300g)
Spanish Style No Chorizo Whirls (rsp: £3/300g)
Crispy No Chicken Escalope (rsp: £3/240g)
Topped Garlic & Parsley Ciabatta Breadsticks (rsp: £2.25/270g)
No Fishcakes (rsp: £3/260g)
Pulled Oyster Mushroom Burgers (rsp: £3/200g)
Tikka Masala with Chargrilled Vegetables and Cashews (rsp: £3.50/380g)
Green Thai Style Curry (rsp: £3.50/380g)
Mushroom Scallop Linguine (rsp: £3.50/400g)
Nut Roast (rsp: £5/300g)
Thai Style No Fishcakes (rsp: £2.50/150g)
Rainbow Vegetable Fritters (rsp: £2.50/180g)
No Chicken Samosa (rsp: £2.50/200g)
Moroccan Style Falafels (rsp: £2.75/200g)
Chocolate & Caramel Dessert (rsp: £2/200g)
Chocolate & Cherry Dessert (rsp: £2/180g)
GoVeggie
Green Vegetable, Cheese & Pesto Sausages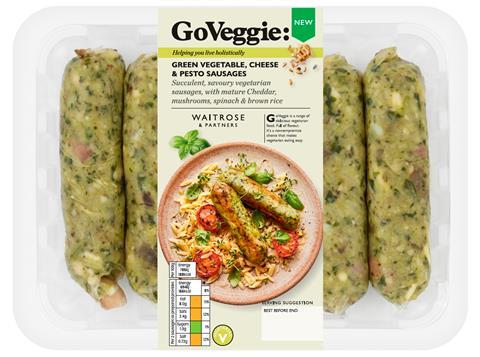 As well as a bright green colour from basil pesto and spinach, these vibrant, veg-led sausages are packed full of texture and flavour. They are made with mushrooms, mature cheddar cheese, brown rice, haricot beans, pine nuts and roasted garlic purée for a 'succulent and savoury' finish (rsp: £3/280g).
Crisp-Crumbed Beetroot & Feta Arancini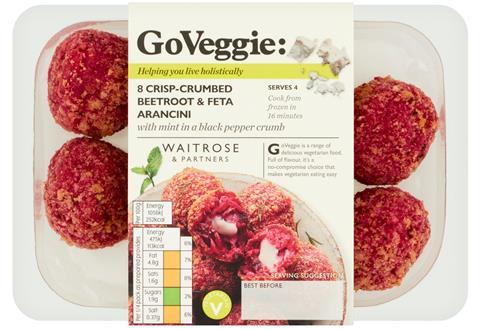 There's nothing subtle about these punchy pink arancini, which can be found in the frozen aisle (rsp: £3/180g). The vibrant, creamy balls of risotto feature a black pepper and mint crumb, encasing chunks of beetroot and a cheesy feta centre. They are joined by two more arancini flavours: Tomato & Mozzarella (rsp: £4/240g) and Mushroom (rsp: £4/260g).
The GoVeggie range also includes:
Truffle Mac & Cheese Bites (rsp: £3.50/240g)
Spiced Bean Burgers (rsp: £2.75/210g)
Aubergine & Feta Burgers (rsp: £2.75/210g)
Frozen Cauliflower Cheese Bites (rsp: £2.50/240g)
Frozen Spinach, Feta & Chickpea Burgers (rsp: £2.50/200g)