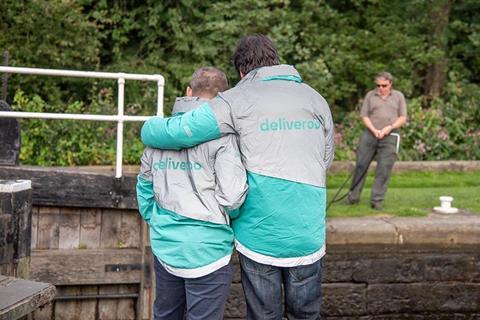 Many Deliveroo riders are getting paid less than minimum wage, a damning report by The Bureau of Investigative Journalism has revealed.
The bureau's analysis of thousands of invoices submitted into a tool created by the Independent Workers' Union of Great Britain (IWGB) by more than 300 Deliveroo riders in the UK found a third made less than £8.72, the national minimum wage for those over 25.
And while Deliveroo has stated riders are paid more than £10 an hour on average, the investigation – published today by the bureau, The Daily Mirror and ITV News – found they earned less than that.
Some earned next to nothing. A cyclist in Yorkshire worked 180 hours and was paid the equivalent of £2 per hour.
"Deliveroo is giving Britain a bad name," said IWGB general secretary Henry Chango-Lopez. "If the government continues to hail it as a 'British tech success', that sets a dangerous precedent for the future of work in Britain."
Deliveroo said its riders had "the complete freedom to choose when and where to work and can choose which deliveries to accept and which to reject".
"These unverifiable, misleading claims from a fringe organisation who claim to have spoken with 0.6% of Deliveroo riders should not be taken seriously," a spokeswoman said. "Riders in the UK are paid for each delivery they choose to complete and earn £13 per hour on average at our busiest times. We communicate with thousands of riders every week and satisfaction is currently at an all-time high."
The company put forward Luiz Grossi, a rider with Deliveroo in Nottingham since 2019, who said his earnings had "only gotten stronger over the past year". Deliveroo explained any calculation of hourly rate was misleading, because it was not uncommon for riders to have the app open all day, and continuously reject orders while delivering for a competitor. A better metric, it claimed, was per order fee, which averaged between £4 and £5.
Read more:
Nevertheless, the findings pose a double threat for Deliveroo ahead of its upcoming IPO, which could see it reach a market capitalisation of between £7.6bn and £8.8bn.
The evidence, combined with the recent Supreme Court ruling against Uber, meant riders were increasingly likely to win worker status – and the right to a minimum wage, said labour law expert Alan Bogg.
"Given the evidence the Bureau has identified about the low levels of pay for Deliveroo riders, in circumstances where they have no control over the contractual documentation, I have little doubt now that they would be treated as workers," he explained.
Worker rights have been highlighted as a substantial risk by Deliveroo in its IPO prospectus.
"The independent contractor status of riders, which applies in most of the jurisdictions in which we operate, has been and continues to be the subject of challenge in certain markets, including in our key markets," Deliveroo said in the document.
The company says it is currently engaged in legal proceedings over claims riders are engaged as employees in the UK, France, Spain, the Netherlands and Italy. Deliveroo added that "ongoing success in defending our model cannot be guaranteed".
Deliveroo also noted the risk riders could flee to rival platforms if pay was too pitiful. In contrast to Deliveroo, Just Eat is rolling out a direct or via agency employment model in the UK.
"How can we employ tens of thousands of people across Europe when this is apparently impossible for others in the exact same business?" Just Eat Takeaway.com CEO Jitse Groen said in February, adding that the gig economy "has led to precarious working conditions across Europe, the worst seen in a hundred years".
There is also the reputation damage Deliveroo might suffer in the wake of the findings. "Consumer complaints about our…pay model…whether accurate or otherwise, could adversely affect our reputation," it says in its prospectus.
"These findings raise concerns," said Tom Powdrill, head of stewardship at PIRC. "Investors considering taking a position in Deliveroo should familiarise themselves with these matters and the risks and responsibilities involved along with all other relevant factors. Challenges to the current employment model are financially material."
According to Leeds University's Leeds Index of Platform Labour Protest, Deliveroo accounted for more than a quarter of all platform worker protest events from 2017 to 2020. Rider self-organised strike action continues to take place in the UK.
"Anyone investing in Deliveroo's exploitative business model should expect more public pressure and worker-led action until their rights are respected," Chango-Lopez added.