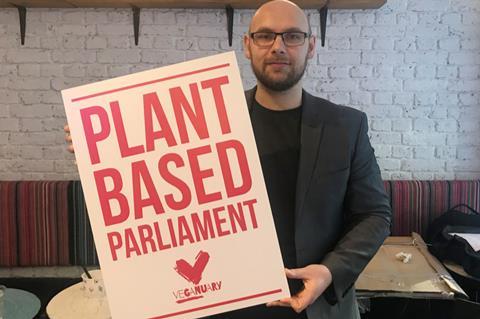 Vegan charity Veganuary is undergoing a shakeup of its senior leadership team, after its CEO and head of campaigns departed at the end of last month.
CEO Simon Winch and head of campaigns Rich Hardy have both stepped down in recent weeks to pursue other projects.
It comes as the charity looks to shift direction, expanding its international reach to build on its UK success and dialling up the focus on its digital campaigning, The Grocer understands.
A new CEO will be announced later this month, tasked with taking the campaign to a global audience. Meanwhile, Veganuary ambassador and founder of Tofurky Seth Tibbott will be taking a more active role in the charity's activities.
Hardy had been with the charity less than a year, after joining in September 2018 as the organisation prepared its biggest-ever campaign for Veganuary 2019. The veteran activist had previously worked on a host of campaigns, including Surfers Against Sewage and in investigations with Compassion in World Farming.
He is now set to write a book covering his time as an undercover investigator exploring animal welfare issues in the food, fashion and entertainment industries.
Winch had been at the charity for just over 18 months when he stepped down in March.
It comes two months after the charity's most successful Veganuary campaign ever, which saw more than 250,000 people across the world take a pledge to eat only plant-based food and drink for 31 days. The figure in 2019 exceeded the total number of participants that took part in the five previous years since the campaign's launch in 2014.
"With Veganuary 2019 over, we are now busy planning for the 2020 campaign, which will include increased engagement with food manufacturers, retailers and restaurants," said the charity's co-founder Matthew Glover.
"To take that forward, we will soon be announcing a new CEO and welcoming several new trustees to the Board who will give us an even greater range of expertise and experience."