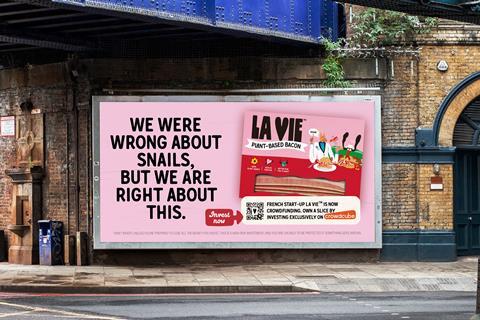 Plant-based pork brand La Vie announced a raft of plans at an event in Paris last night, including a new ham SKU.
The French brand used the event to outline ambitions to expand its range with a new ham-inspired product that is on sale in its home country now and is expected to launch in the UK at the start of next year.
The product took four years to develop and is sliced using a trancheuse, like the genuine pork product.
It is made of only seven ingredients without any texturising agents, with pea and soya protein as the core elements. Nicolas Schweitzer, CEO and co-founder of La Vie, told The Grocer the product had a "shorter [ingredient list] than the meat equivalent, which is crazy".
"We could really launch 25 products tomorrow, but we are restraining ourselves because we want to make sure that whenever we launch a new product a meat lover that would try it will just say 'woah'," he added.
"We want to wow meat lovers and it is very hard because meat is delicious, so we have to really spend as much time as it takes in R&D until we get to that point where not only is the product amazing but the recipe is very short."
The brand, which is available in 4,600 supermarkets worldwide, also launched a €1m crowdfunding round at the event to invite investors and customers to be part of the "ground-breaking movement and contribute to a more sustainable planet without compromising on taste".
The funding round is running on CrowdCube from 7 to 28 September. Fans can sign up for as little as £20.
"It's not really about the money," Schweitzer told The Grocer.
"We have already secured [another significant] investment round and I think for us it is mostly about strengthening our community, creating real ambassadors that believe in our vision, that want to own a slice of La Vie, and I think it's pretty cool."
The brand claims it has sold 2.5 million products over the past 18 months and is aiming to hit €12m annualised sales by end of year. It launched in the UK market last September.
The crowdfund will be supported by a social, print and OOH advertising campaign.
Also announced at the press conference were new products available for foodservice: bacon pizza rashers and bacon bits, and a new delivery only restaurant brand, Kiss My Burger by La Vie, will be available on apps from 4 October in Paris and UK from Q1 next year.
The UK was described as a "core market", with the brand promising further expansion in the next six months with new listings at major retailers among others.
"We will be going after as much market penetration as we can in the next one, two, three years," Emily Giles, head of sales, UK at La Vie, told The Grocer, recognising that the brand was currently only available in a few key retailers, namely Sainsbury's, Ocado and Waitrose.