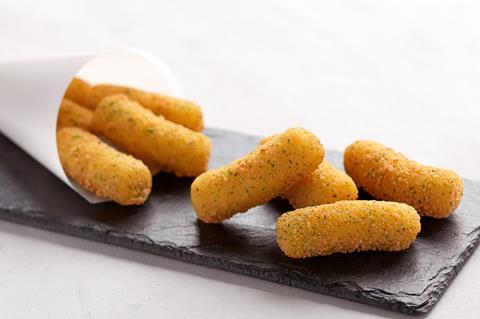 Abergavenny Fine Foods has unveiled plans to double its production capacity over the next three years through a multimillion-pound investment at its Blaenavon site.
The development, which is currently at the planning stage but could see work begin this year, would see the addition of a third production line and the enhancement of 'outbound areas' at the factory, according to the supplier's MD Jason Rees.
Through this investment and a greater focus on its plant-based offering, the Welsh company said it hoped to grow its market share for its added-value dairy and meat alternatives in chillers and freezers across the mults.
AFF said its plans over the next 12 months would see it explore affordable NPD in the coated vegetable and meat-free own-label markets and refine its existing cheese alternative lines.
"The key growth opportunity is in finger food – providing healthy plant-based snacking alternatives – rather than going for the centre of plate where you're competing against the much bigger players," Rees said.
"The big night in and own label are so prevalent in retail. There's plenty to go after and given we've already got the pedigree in the coated space, I think they're really interesting markets for us."
Rees also pointed to opportunities in the export market for plant-based products – particularly in the US and Australia. He said the weaker pound had made UK-produced products more attractive to foreign markets.
The news comes after dairy exporter Somerdale International snapped up Abergavenny's blended cheese business earlier this month.
The deal followed a decision by AFF to end production of the cheeses last October, in order to focus on developing the company's export business and its added-value proposition.
It meant brands such as Y-Fenni, Tintern, Harlech and St Illtyd – which had been previously produced in partnership with Somerdale – would continue to be produced.
"Blended cheese is relatively low margin and very difficult to win in," said Rees. "We're better off focusing on things we know we can do well at and that's why we made the decision to divest."