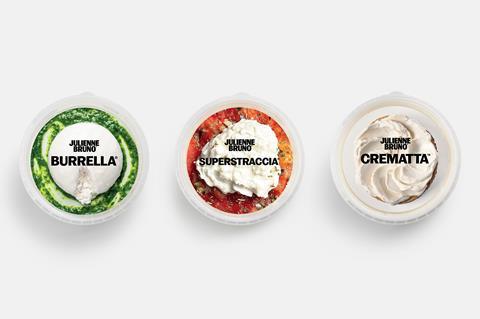 Startup vegan cheese brand Julienne Bruno has secured its first national grocery listing on Ocado.
The full Collection 01 range became available on the retailer's website today.
The three dairy-free cheese alternatives are: the Burrella (rsp: £4.50), which is similar to a burrata, the lightly whipped Crematta (rsp: £3.50) and its Superstraccia (rsp: £4) with creamy curds.
The brand said the range was "inspired by classics" and that "each product has been given a name that's easily recognisable but also allows it to establish its own identity".
"This is a dream come true," said founder Axel Katalan. "When we set out to build the Julienne Bruno brand, Ocado Retail was on the top of our aspirational list and thus we are so proud to announce this landmark partnership with them."
The vegan cheese range is created in fresh batches each week using organic soya and coconut oil that are naturally fermented with a bespoke system, which was perfected over two-and-a-half years.
"As appetite for vegan alternatives increases, Julienne Bruno is a great addition to our wide range of products on Ocado, helping our customers get their hands on some delicious cheese alternatives as part of their regular food shop," said Freya O'Mara, senior buyer, cheese at Ocado Retail.
"We believe that plant-based food is the most exciting area in gastronomy and our listing on Ocado.com means that we are one step closer to making our products easily accessible to customers across the UK and as part of their weekly shop!" he added.
The Julienne Bruno range is also stocked in-store at the Foodhall at Selfridges London, at the Harrods Fresh Market Hall, at seven Whole Foods Market stores and on menus at select restaurants nationwide such as the Big Mamma Group, The Harrods Tea Rooms, The Tiffany Blue Box Cafe, Mamma Dough and Pizza Pilgrims.