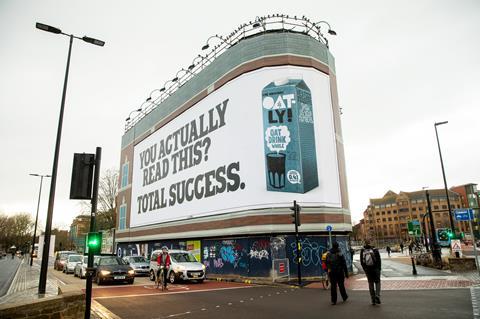 Oat-based milk maker Oatly's blockbuster IPO isn't just proof of the healthy appetite that now exists for plant-based living. It's also a reflection of the brand's smart blend of creativity, responsibility and positivity in a consumer goods category – alternative milks – few would have previously believed had big creative or cultural potential.
Born in the nineties and backed by research from Lund University, Oatly's relatively rapid transition from Swedish-based start-up to global phenomenon has been powered by five things.
First, as dairy alternatives are measurably better for the planet, Oatly is inherently green. Second, it is green at a time when green lifestyle choices, including plant-based alternatives – hand in hand with conscious consumerism generally – are going mainstream.
Some 57% of consumers now believe brands need to do more to positively impact on society, according to the Conscious Brands 100 Report, from Wolff Olins and Hall & Partners, in which Oatly rated highly (in eighth position in the UK top 10).
Third, the product itself is good. Oatly's range is more complete than many of its rivals. Further, it has also cleverly included a 'barista' version in its range with a higher fat content to make café – or, indeed, at home – frothing easier.
Next, Oatly has a great brand built through and supported by great marketing. Its mission, name, brand, attitude and tone are all well-constructed. It works as well in hipsters' homes as it does on supermarket shelves. And it has driven fandom and usage at a massive scale by challenging the norms of the food industry with a provocative stance. It has also proven itself adept at successfully balancing the need to be both responsive and responsible.
Read more:
Led by CEO Toni Petersson – a career marketeer who raised eyebrows singing a tune he wrote himself in a wide-open field of oats for Oatly's recent Super Bowl ad – the business has essentially created a lifestyle brand built on sustainability.
Finally, Oatly has invested in large growth markets. Available both in the US and China, its single biggest market in Europe is the UK, where it is now looking to build a plant.
Looking ahead, Oatly is well-positioned to continue benefiting from its category boom and current trends around a more plant-based, sustainable diet and lifestyle. Its responsible credentials are also on point, though as with any business that wears its green credentials prominently, it needs to be aware that any missteps can quickly escalate.
The company's decision to sell a stake to a consortium that includes powerful private equity firm Blackstone, for example, left a sour taste in the mouths of some.
Meanwhile, how well Oatly can shift from marketing-led growth to scaling across marketing remains to be seen.
Following its IPO, however, Oatly is well-positioned to accelerate its expansion into other oat milk-based products. And it now has a solid base for the brand to develop beyond its category if it chooses, with more freedom to experiment in terms of operations, marketing and product diversity.