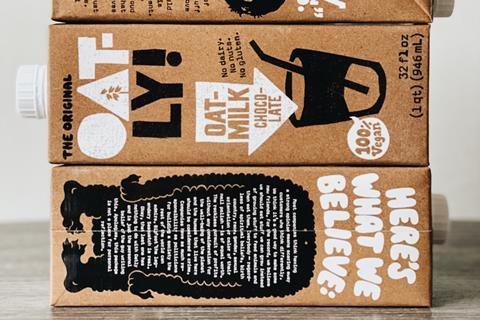 Oatly's rise to fame and fortune is one of the greatest feats of entrepreneurship the food industry has ever seen. This week's IPO valued the business at $10bn – in the same league as Impossible Foods and Beyond Meat. Not bad for a milk substitute.
It's not been an overnight success story. Oatly was founded in the 1990s. And it's a testament not just to great marketing (as some claim) but foresight in anticipating (and contributing to) the growth of free-from/plant-based; canny use of routes to market (initially stocked in health food stores; more recently piggybacking the growth of coffee shops); and superb product development.
Above all it's a testament to the importance of technology. Oatly was the result of Swedish research from Lund University, and uses a patented enzyme technology, which turns fibre-rich oats into nutritious liquid food.
Sometimes food seems so straightforward: a simple pleasure in which well-nurtured foodstuffs are simultaneously (or variously) nutritious, delicious, convenient and great value.
But from canning and cold supply chains, to freeze-drying and pasteurisation, from artificial sweeteners and the Chorleywood bread process, to the more recent development of alt-protein and cultivated meat, food technology has always played a vital role in developing the market.
Today we talk about food tech as if it's a new thing, like smartphones and the internet. And to be fair the past 10 years has seen a new generation of science whizzes emerge: more commercially minded startups than the traditional lab coat-wearing chemists of old.
At the same time, many of the great food inventions of our time have been developed not in the laboratory but by kitchen entrepreneurs. Indeed, their numbers have been swelled by product development teams working from home in the pandemic. And whether it's plant-based liquid eggs or reformulating to escape the crackdown on HFSS foods, whether it's opportunity or necessity, invention will continue in this industry in all shapes, sizes and locations.