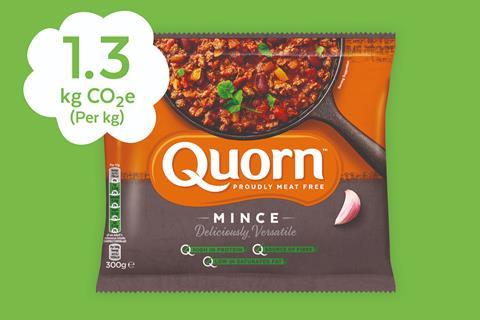 Quorn is claiming a world first for a meat-free food manufacturer by publishing the carbon footprint of individual products in its range.
The brand started publishing Carbon Trust-accredited carbon footprint data for more than 60% of its best-selling products on the Quorn website this week.
On-pack labelling highlighting the "farm to shop" carbon footprint of individual products would also be rolled out before the end of the June, said Quorn marketing director Alex Glen.
A full labelling roll-out across the entire Quorn product range is due to be completed by next year.
Publishing carbon data would enable shoppers to make sustainable food choices in the fight against climate change, Glen said, and help them understand the environmental impact of the foods they buy.
The move will be spearheaded by a multimillion-pound TV ad push launching this weekend entitled 'Step in the Right Direction'.
The campaign forms part of Quorn's biggest-ever annual investment in marketing, with £15m set to be invested in promoting the brand during the course of 2020.
Citing a study in the journal Science in 2018 [Poore & Nemecek] which claimed 26% of global emissions came from food production, Glen said the 2020s would be the decade when consumers needed to "focus on how food choices impact climate change".
"It's more important than ever before to be making informed decisions about the impact that the food we're eating has on our planet, in the same way nutrition labels help inform decisions on health," he added.
"We're encouraging other food and drink brands to publish information about their products' carbon footprint too, so shoppers can make comparisons," he added.
Quorn's move comes amid a glut of plant-based NPD launches across the mults and foodservice operators to mark Veganuary 2020. More than 350,000 people had already pledged to go vegan by the start of January, the charity said, putting it on course to smash its target.