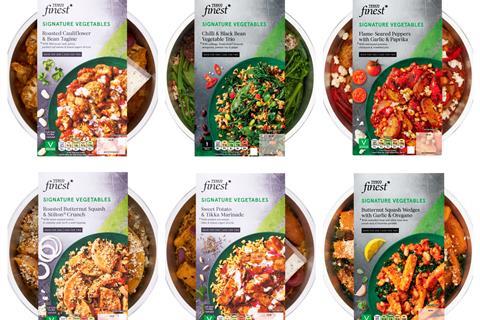 Tesco has launched a range of Finest Signature Vegetables main dishes.
As part of its new "plant forward" strategy, the retailer has launched the six-strong range to provide healthier vegetarian meal options.
The NPD includes: Roasted Butternut Squash & Stilton Crunch; Sweet Potato & Tikka Marinade; Roasted Cauliflower & Bean Tagine; Butternut Squash Wedges with Garlic and Oregano; Flame Seared Peppers with Garlic & Paprika, and Chilli & Black Bean Vegetable Trio.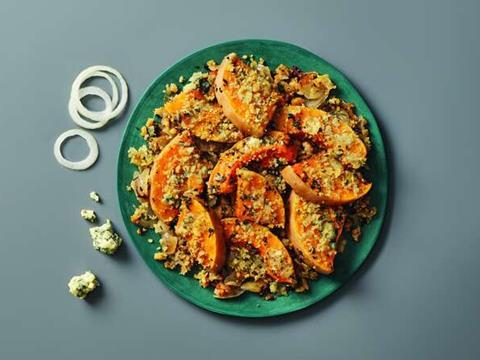 "We see the next stage of our strategy as 'plant forward' and our latest range has been developed as we've seen a growing demand for veggie options featuring whole foods, vegetables and dairy products as the central part of the dish, rather than meat mimics," said Breige Donaghy, director of food product development and innovation at Tesco.
According to the retailer's research, more than a third (34%) of the nation now limits or excludes meat from their diet, choosing to follow either vegetarian, vegan, flexitarian, pescatarian or 'climate conscious' diets.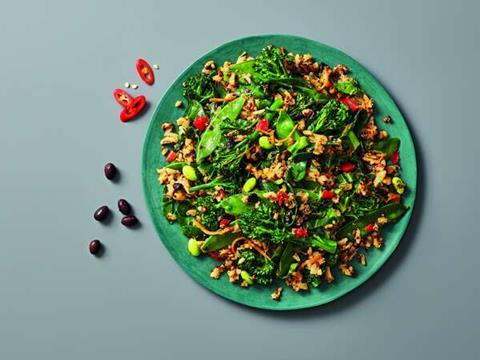 The products (rsp: £4/400g) have been designed to reach the 33% of people who, according to Tesco's research, would rather eat meals made from whole foods than meat imitations.
Further research from Tesco found a third (33%) of those who either limit or exclude meat and fish from their diet and 17% of meat-eaters would love more veg-based main options in supermarkets, rather than just side dishes.
"Within the new range we've taken inspiration from global cuisines where vegetables more commonly play a starring role, to offer flavoursome veg-led options, sure to add excitement and tantalising flavour to mealtimes, whether vegetarian full-time or cutting down on meat one meal at a time," Donaghy added.
Earlier this year, the retailer announced this new veg-led strategy when previous director of plant-based innovation at Tesco and founder of Wicked Kitchen, Derek Sarno, left the retailer.
Sarno led the plant-based strategy at Tesco for six years and developed two plant-based brands, Wicked Kitchen which launched in 2018 and Plant Chef which launched in 2019