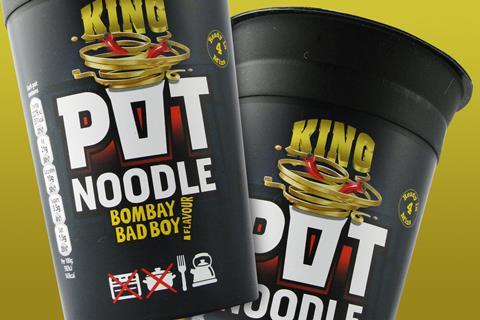 Unilever has revealed its latest plans to make plastic packaging more recyclable and sustainable – including the launch of a 100% recycled squeezy bottle for Hellmann's mayonnaise.
The supplier has already launched the eco-friendly mayo bottle in the US, and expects to bring it to the UK in late 2019 or early 2020.
It will be preceded by a more easily recyclable pack for Pot Noodle's Bombay Bad Boy variant. Currently made of black plastic, it will switch later this year to white. This would make an extra 4.2 million Pot Noodle packs a year more easily recyclable, Unilever said.
The company has also kicked off rollout of On-Pack Recycling Label scheme messaging across its fmcg portfolio, to provide simple and consistent advice on whether a pack is widely recycled, locally recycled or not recyclable.
Unilever's latest sustainability measures – part of its commitment to ensure all its plastic packaging is reusable, recyclable or compostable by 2025 – come as the supplier continues its work with tech startup Ioniqa and Indorama Ventures, the world's largest producer of PET resin.
The aim of the three-way team-up, announced in April 2018, is to pioneer chemical-based technology to convert waste plastic back into virgin-grade material for use in food packaging. Now in an industrial-scale testing phase, it would create a "fully circular solution", said Unilever, leading to "an industry transformation, since the new technology can be repeated indefinitely".
The first commercially viable product would likely begin to appear in packaging "as a percentage inclusion from early next year" according to Andre Burger, the company's vice president of brand building foods & beverages.