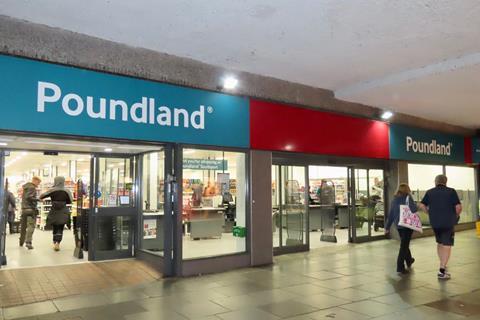 Poundland is set to open another nine former Wilko stores this Saturday, bringing the number converted to its own fascia so far to 56.
They are among 75 Poundland stores due to have opened in the three months to the end of the December, according to the retailer, including some relocations.
Poundland agreed with Wilko administrators in September to take on the leases of about 70 stores, and has been negotiating new rent terms with landlords to reopen them under its own brand as quickly as possible. The latest nine due to open on 4 November include former Wilko units in London, Grimsby and Hull.
The process has so far seen Poundland offer new roles to 500 former Wilko workers, having promised to prioritise them as it struck the deal for stores with PwC.
Poundland is also in the midst of its "biggest ever quarter of organic space growth", according to a spokesman for the variety discounter, thanks to another 19 stores in its existing pipeline of openings and relocations.
Among them is the "major milestone" of its first ever move into a former John Lewis department store, in Watford's Harlequin Centre. The store is due to open as a Poundland in December.
"To open 75 stores in the space of a single quarter is nothing short of a superhuman effort from every member of the Poundland team. To each and every one of them I say thank you," said Poundland MD Austin Cooke.
"But we're working at this pace because we're on a mission – ambitious to grow, create jobs and serve new communities by opening shops customers and communities can be proud of."
In a presentation to investors earlier this month, Poundland owner Pepco Group said it was committing to the UK as its largest market, as it pursued a more disciplined approach to growth and investment and sought to rebuild profitability in central and eastern Europe.
Wilko fell into administration in August, leading to the loss of about 12,000 jobs after PwC was unable to find a rescuer for a significant part of the business.
The administration process has also seen B&M agree to buy 51 stores to reopen under its own brand.
The Range acquired the collapsed retailer's brand and online operation, in a deal which is set to see the return of standalone Wilko stores.
Poundland's pipeline of store openings
November 2023:
Unit 33-35, Butterly Business Park, Kilmore Road, Artane, Dublin, D05 YY13 (Pepco)
12-18 Southgate Street, Gloucester, GL1 2DH (relocation)
Unit 31, 11 Cornmarket, Lancaster, LA1 1AL (relocation)
Unit B, Pallion Retail Park, Sunderland, SR4 6TY
26 Stonehills, Welwyn Garden City, AL8 6NA
21-23 High Street, Portishead, BS20 6AB (relocation)
3 Market Street, Crewkerne, TA18 7JP
December 2023:
38 High Street, Midsomer Norton, Radstock, BA3 2DL
34-38 Midland Road, Bedford, MK40 1PS
72-72A Preston Street, Faversham, ME13 8PA
34-35 High Street, Newport, Shropshire, TF10 7AQ
Unit 3, The Harlequin Centre, High Street, Watford, WD17 2TW (relocation)
44-46 High Road, Wood Green, London, N22 6BX (relocation)
Unit 4, Cleveragh Retail Park, Sligo (Pepco)
27/29 High Street, Wells, BA5 2AA
10B, The Fort Shopping Park, 20 Fort Parkway, Birmingham, B24 9FP
59 The Broadway, Plymstock, Plymouth, PL9 7AX (relocation)
Former Wilko stores to reopen on 4 November
Unit 16, Lagny Street, Alnwick, NE66 1LB
22-24 Headingley Central, Otley Road, Headingley, Leeds, LS6 2UE
48-52 Freeman Street, Grimsby, DN32 7AG
Unit 11, St Andrews Retail Park, Hull, HU3 4EH
12-14 Bore Street, Lichfield, WS13 6LL
30-40 High Street, Wombwell, Barnsley, S73 8AA
Edmonton Green Shopping Centre, 3-11 North Square, London, N9 0TZ
41 Hamilton Way, Oak Mall Centre, Greenock, PA15 1RQ
32 Yoden Way, Castle Dene Shopping Centre, Peterlee, SR8 1AL