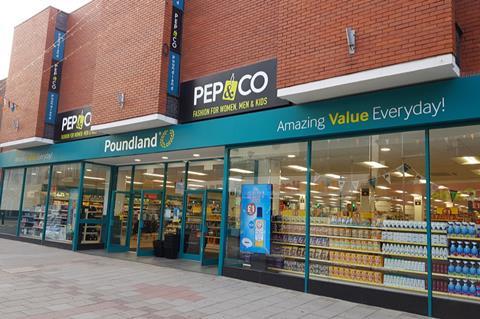 Poundland is to launch 'destination stores' with bigger ranges as well as an online shopping service.
In what the variety discounter is calling its biggest-ever transformation programme, the estate is to be revamped and stores split into three types: 'destination', 'core' and 'convenience'.
Destination stores will get the "fullest range of products including food, homeware, health & beauty and clothing", Poundland said today.
Core stores will offer "a wide range of products on high streets customers love".
Conveniences will provide "grab-and-go easy shopping".
Meanwhile, one of three stores in Cannock will close on 18 July to be converted into an online fulfilment centre. The home delivery service will be offered through Poundland.co.uk.
"We're stepping up to support high streets after the impact of coronavirus by being customer-focused, people-led and tech-enabled," said Poundland MD Barry Williams.
"This is the biggest transformation in our history as we look to secure our future for another thirty years."
Stores to be revamped in 'Project Diamond' will go live this month stretching from Consett, Newcastle and Cleveland in the north east to Slough, Thurrock, Pitsea and Borehamwood in the south east, Poundland said. All are getting the discount chain's frozen and chilled 'shops in shops', launched as a pilot last year and due to have reached over 60 branches by the end of the year.
The transformation plan includes completing the rollout of new price points, also launched last year. By autumn this year, "every category will have extended ranges at prices above and below £1" Poundland said.
Meanwhile a new type of general merchandise shop-in-shop would be launched this summer, Poundland said, with details to be announced. The new offer will join Poundland's Pep&Co clothing shops in shops, which are also heading to more locations in a new, more compact format.
Poundland's latest multipricing push from last autumn saw 50p, 75p, £3, £4 and even £10 added to the existing price points of £1, £2 and £5. It was rolled out across the estate but only so far as grocery and fmcg ranges, which were also expanded in the exercise. The latest announcement will see general merchandise gain new price points.
Poundland said today three quarters of products were still sold at the core £1 price point, but the new prices had allowed it to widen the ranges in health & beauty, household and grocery. "The simple price rollout will be completed by October – one year after it was launched," a spokesman added.