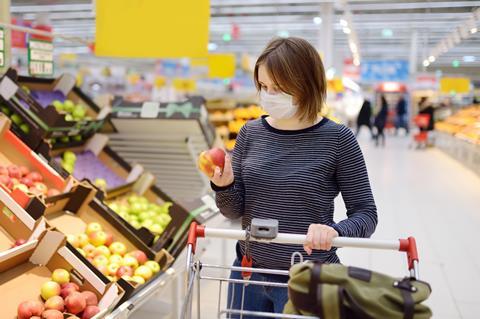 Shoppers are spending more per trip as retailers wind back promotions

Covenience stores including the Co-op grew share as 16% of Brits changed their primary grocer
Grocery inflation has hit 3.1%, its highest level since January 2018.

Brits are splashing out more on their shopping trips thanks largely to a major drop in promotional activity, latest Kantar data reveals.

"Shoppers are picking up fewer deals - especially multibuy offers - as retailers have wound them back to ensure shelves stay well stocked," said Kantar head of retail consumer insight Fraser McKevitt.

"The average promotion is worth just over 30% off at the till, so buying fewer items on deal has had a material impact on the average prices shoppers pay."

In February, prior to the onset of lockdown in the UK, 31% of total sales value was through promotions. That plummeted to 25% in April, and remains low, despite rallying to 27% over the four weeks to 17 May [Kantar], as spending on multibuy deals fell 17%.

Brits have also significantly altered where they're shopping during lockdown. According to a consumer survey by consultancy firm McKinsey & Company this month, 16% of Brits have changed primary grocer since the onset of the coronavirus crisis, with c-stores reaping the benefits.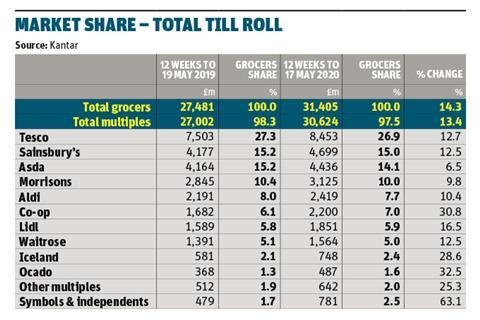 Asda, Sainsbury's, Aldi and Lidl all lost market share over the four weeks to 17 May. Symbols & independents, Iceland and the Co-op grew share [Kantar].
That convenience retailers typically run fewer deals contributed to the higher average price shoppers were paying, added McKevitt.

Of those shoppers that changed retailer, 41% said they had done so to find a less crowded shop - compared with 25% who listed finding cheaper prices as their main priority, according to McKinsey.

"Before [coronavirus] they were shopping around a lot. Now they are making fewer trips and consolidating what they buy," said McKinsey senior partner Jessica Moulton.

Despite these dynamics, McKevitt said the data did not indicate shoppers were trading down on products.

"In the past four weeks both brands and own-label products have grown at a similar rate, and brands are actually edging own label by around 3%, so there's no sign so far of a rush to more economical ranges," he said.

British take-home grocery sales surged 17.2% year on year over the past four weeks, taking 12-week growth to its highest level since comparable records began in 1994.
Still, supermarkets would "continue to feel the impact of a considerable reduction in on-the-go spend on meals, drinks and snacks," McKevitt warned.
This story was edited on 3 June to reflect that Iceland grew market share over the four weeks to 17 May.