The IOT and CMMS are a match made in retail heaven, bringing better efficiency, reduced waste and lower costs. But how?
The Internet of Things (IoT) is already providing a multitude of benefits to retailers but what happens when those shopfloor technologies we're so reliant on start to falter? When a cabinet breaks down, batteries need changing or any number of incidents that arise and lead to disruption and unplanned downtime.
As implementing such wide-reaching technology isn't without its challenges. For starters, there are privacy and security concerns associated with holding such information and making sure that it doesn't fall into the wrong hands. Then there's the fact that the sheer volume of data created by IoT systems can be overwhelmingly noisy without the right programmes in place to manage and analyse it.
So how can retailers ensure that this wealth of information is put to the best use, for them and their customers?
Resolving the 'noise' of IoT
That's where linking IoT technology with computerised maintenance management systems (CMMS) comes into play.
While CMMS have long been used for looking after the running of digital assets in the grocery world, they can also align with IoT to provide a one-stop shop for managing equipment maintenance and repairs. And when stores opt to integrate their IoT data with their CMMS, they can anticipate equipment failures and respond more efficiently, as well as scheduling maintenance proactively to reduce disruption and downtime.
Co-op streamlines maintenance and monitoring
These were the kinds of considerations that the Co-op group had before they began working with Accruent. Their preventative refrigeration maintenance management was looked after by no less than four separate external providers, their cabinets were monitored manually by staff in stores and there were multiple issues around admin, including a lack of data transparency in invoicing and a convoluted compliance process that involved 11 different systems.
So the group adopted two Accruent systems to help. They selected retail CMMS to get on top of their maintenance and work order management needs, and vx Observe for remote monitoring of refrigeration, which meant that major issues could be flagged automatically by the system, moving maintenance to a condition-based system rather than a time-based one.
This had a dramatic impact on the costs incurred around maintenance, explains head of contract management and service improvement at Co-op. "By automating and streamlining our invoice validation process, Accruent has helped us save 5% on total maintenance spend," he explains.
"Before vx Observe, a store colleague would have to raise every single job. Now about 20% of jobs are raised automatically, making their roles easier and allowing them more time with their customers."
Moreover, this more efficient approach has had numerous other positive impacts, including reduced food wastage, a reduction of a third in outsourced service providers and, crucially, 99.8% asset availability, ensuring a much smoother running of stores, for staff and customers alike.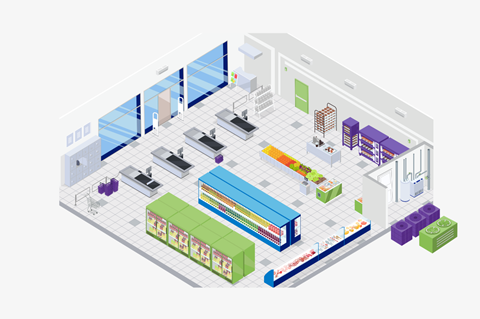 US pet business capitalises on modern data
Over in the US, pet food manufacturer and distributor Freshpet has 20,000 refrigerated kiosks and displays in stores across the country, and previously outsourced all of its repair and maintenance to a third-party company. That organisation was still using old-fashioned manual data processing, which meant that running analytics and tracking results by key performance indicators was an enormous challenge for Freshpet.
So, the company opted to work with ServiceChannel to cut out the middleman and make the most of sophisticated modern data and analytics tools. As a result, its process is now driven by data and real-time information, which director of retail assets Vladimir Vuka says has been a game-changer. "The data that was available to us before deploying ServiceChannel was not precise or easily accessible," he says. "Now, we can analyse every customer, vendor, asset and employee instantly with everything in one place."
The impact on the business has been considerable. Asset issues are now resolved faster and more reliably, which means higher levels of customer satisfaction and a significant reduction in lost sales and product wastage. And this has helped Freshpet expand businesses both in-store and into new locations.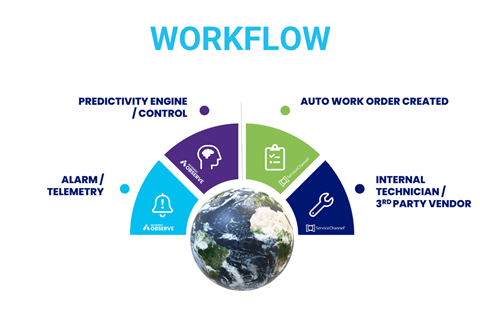 The convergence of IoT and CMMS looks set to be a transformative trend for the grocery industry, with the potential to revolutionise the way it functions. By integrating the two technologies, retailers can vastly improve visibility into their operations, enabling them to automate key tasks and proactively identify and address potential issues ahead of time, enabling them to reduce costs in these tough financial times and provide a more satisfying shopping experience for customers.
While investing in IoT tech may feel like a big outlay in these tough financial times, it has been shown to bring benefits in countless areas of retail, from monitoring product freshness to tracking inventory and footfall, as well as reducing waste and energy consumption, all of which represent valuable savings as well as improving sustainability.
McKinsey has predicted that, by 2025, IoT applications could have a US$11-trillion impact on businesses and they note that it has already helped many organisations to find major improvements in performance, including up to a 25% reduction in maintenance costs and a 50% decrease in unplanned downtime.

At Accruent, we're building a more connected future where your people, systems, and data work synergistically to drive informed decision-making, operational excellence, and business growth. As the world's leading provider of workplace and asset management software for unifying the built environment, our solutions deliver not only the promised results but also illuminate possibilities you couldn't see before. Coupled with our deep industry expertise and world-class professional services, you can depend on us to help maximise the investments in your people, assets and facilities.
View full Profile