The public has spoken and the message could not be clearer: Brits want the whole FMCG industry to go even further when it comes to sustainability and social responsibility practices.
Whether it's cutting back on single-use plastic or slashing food waste, UK consumers are increasingly concerned about how their purchasing decisions impact the planet, and today's fickle shoppers are also far more selective about where they buy their goods.
One big issue to emerge in recent years is provenance. Growing awareness over the carbon impact of food miles and the potential for poor sustainability practices in some global supply chains mean shoppers are increasingly concerned over the source of their food and the journey those ingredients have taken before arriving on their plate.
The Covid-19 pandemic has done little to stem this provenance tide. In fact, the profound collective and individual anxiety caused by the global pandemic has arguably brought it even more prominently to the fore.
As a result, the public is ready to buy British, claims the Capgemini Research Institute. According to the group's How sustainability is fundamentally changing consumer preference report, 63% of UK consumers now plan to purchase more locally made products in the next 12 months in light of Covid-19.
"Growing concerns about environmental challenges and the need for conservation of natural resources – as well as greater expectations around societal issues – have brought sustainability into the mainstream for consumers and organisations," the report states.
Similar conclusions were found in many other countries, with the driving force behind this 'buy local' trend including: the perceived level of safety in local production; greater trust and traceability of local products over imported ones; the smaller carbon footprint of local products; and a sense of supporting local communities.
Sustainability remains on-trend despite the global pandemic
79% – Consumers who make purchase decisions based on sustainability issues
63% – UK consumers who plan to buy more locally made products
81% – Shoppers who believe Britain needs to be more self-sufficient in food
59% – People who trust British food and groceries more than from other countries
Sources: Capgemini Research Institute; IGD; Deloitte
Local food for local people
Not only do consumers want to shop for locally sourced produce, but 81% of shoppers believe Britain's food consumption needs to be more self-sufficient and not rely as much on imported goods, separate research by IGD shows. Fifty-nine per cent, meanwhile, simply trust British food and groceries more than food and groceries from other countries.
"There is a clear desire for locally made food, and consumers are only ever going to get more demanding of manufacturers, retailers and the government about where ingredients are being sourced from," Chris Dubois, global head of insight at Weetabix, claims. "We import anything from 50% to up to 70% of the food that gets eaten in this country, and it's very much in these testing times when we become a little introspective and try to work out what we're all about as a nation."
With sustainability now such an important consideration for consumers, retailers are putting pressure on suppliers and manufacturers to up their game in areas such as provenance. And the FMCG sector has been working tirelessly to meet those expectations.
Take Weetabix, which sources all the wheat for Weetabix Original from within 50 miles of the company's factory in Burton Latimer, Northamptonshire. The commitment – part of the Weetabix Wheat Protocol – is a core focus of the brand's new unified sustainability framework, which has four key pillars: ingredients, packaging, efficient operations, and health & wellbeing.
The cornerstone of the 50-mile radius initiative is the Weetabix Growers Group. Launched in 2010, the Group is a collective of approved local farmers who have volunteered to grow, harvest and store high-quality wholegrain wheat for the breakfast cereal producer. Each grower must also sign up to affirm the quality and environmental requirements that are at least as good or better than Red Tractor Assurance, thus helping to reduce food miles and fertiliser usage.
"Wheat is clearly one of our most important ingredients and we wanted to make sure we got first-class wheat to make the best-quality Weetabix, and what better way to do that than connect with local farmers," says John Petre, Weetabix's supply chain and technical director. "They know more about the crop than we do and see it from when it's put in the ground through to when it's ready to be delivered from their farms to our factory gates.
"Importantly, the Weetabix Wheat Protocol helps reduce our carbon footprint as it's coming from within a 50-mile radius and hasn't had to travel across the ocean from another country," Petre adds.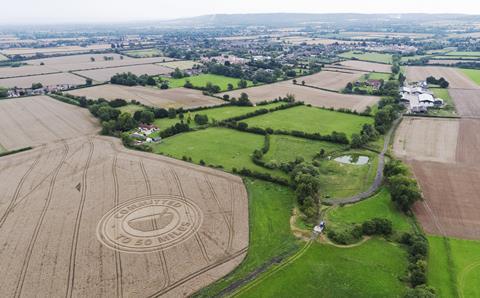 The business case
Local sourcing doesn't just cut carbon. It can also cultivate more collaborative relationships with producers, helping manufacturers and retailers raise sustainability practices across the board. Better information sharing and quality assurance, meanwhile, can help deliver a superior, and sometimes healthier, final product for consumers.
There are more practical considerations, too. Integrated, local, supply chains can help protect both farmers and manufacturers against growing volatility in global commodity markets.
That's particularly true in the case of wheat. Extreme weather over the last year has led to the worst harvest for nearly four decades, according to the National Farmers Union (NFU), causing wheat yields to be down by up to 40%. "This demonstrates the volatility that can be experienced across a farming year and why food production and food security must be taken seriously," NFU vice president Tom Bradshaw said last month.
Throw in the additional headaches of the supply chain challenges spawned by Covid-19 and the prospect of a no-deal Brexit, and the importance of building collaborative relationships with British food growers and producers is only likely to increase further.
Putting it simply, local sourcing makes good businesses sense. Not least when you consider that consumer preferences are shifting faster than many manufacturers and retailers yet appreciate. A new survey commissioned by Weetabix has found that that almost a third of UK consumers admit the Covid-19 pandemic has made them realise how important locally sourced products are to the UK economy, with 48% of Brits actively looking for locally sourced items in the supermarket.
According to Capgemini's research, 79% of consumers are already changing their purchase preferences based on social or environmental impact. That contrasts sharply to the 36% of businesses who believe consumers would be willing to make such a change for sustainability reasons.
The cost to brands and retailers of not addressing this gap could be up to 6% of revenue, Capgemini warns.
Even in these times of health and economic uncertainty, tackling climate change and protecting the environment remain big priorities for millennials and generation Z, Deloitte research shows.
If the public is showing no sign of sitting still on the issue of sustainability, the FMCG sector shouldn't either.