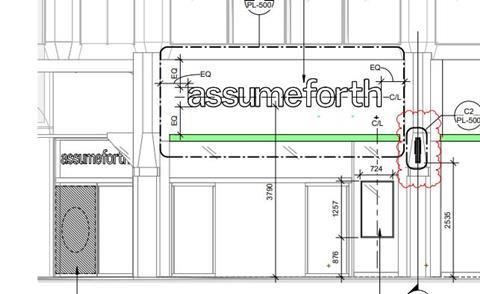 Planning documents for Amazon's new store in Ealing suggest it will be an Amazon Fresh branded site, rather than an Amazon Go format store as was initially reported this weekend.
Drawings associated with an application to Ealing Council shows the signage of the store reading 'assume forth' – the same character count as Amazon Fresh and in the same style. The document shows 'assume' in opal white and 'forth' in green, as per Amazon Fresh branding.
The drawings also indicate some windows of the store will carry "green vinyl graphics" with icons of food items. Amazon Go stores are typically branded in black and gold colours on the exterior.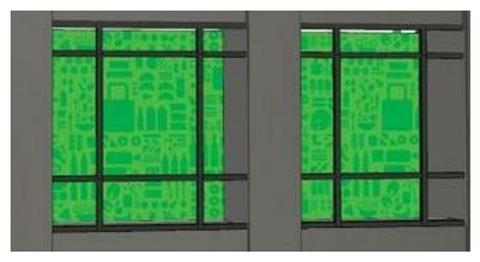 Amazon would not confirm that it was opening a store in Ealing or elsewhere in London, or what format store any would be.
"It makes sense that Amazon would go for a lower-tech grocery store entry in the UK as Fresh is, both from a cost and scale point of view," said Miya Knights, co-author of Amazon: How the World's Most Relentless Retailer will Continue to Revolutionize Commerce. "It has favoured this approach since first introducing Fresh in the US last August.
"It is also telling how quickly it has been able to roll this format out, now both domestically and internationally, when you consider the Go format first launched in January 2018 and still hasn't expanded beyond two full grocery locations, although it has 26 Go convenience stores," she added.
Amazon has three main formats of physical food stores: Fresh, Go and Go Grocery.
The company's first Amazon Fresh grocery store in August last year, in Woodland Hills, California. The stores – of which there are now 10 offering "everything you typically find at a grocery store" – does not feature the 'Just Walk Out' technology of Amazon Go stores, where customers simply pick items off the shelves and walk out, their purchases picked up by computer vision and scales on shelves.
The Amazon Fresh stores do, however, feature Amazon's smart trolley – the Dash Cart. The trolley features a self-scanning device that customers use as they add items into it. Fresh store customers in the US can also use Amazon's voice assistant Alexa to "manage their shopping lists and better navigate our aisles". Prime members can also pick up and return Amazon.com orders at the stores.
Amazon last year also opened two Amazon Go Grocery branded stores in Seattle and Redmond, each around four times larger than a typical Amazon Go store at around 1,000 square metres, but less than a third of the size of the 3,250 square metre Amazon Fresh stores.
Amazon Go stores were first launched in 2018. The stores are on a small footprint offering a small range of convenience items and prepared sandwiches and salads.
The Ealing site – a former Monsoon at the entrance of Ealing Broadway shopping centre – is approximately 250 square metres in size – somewhere between a typical Go and Go Grocery store in size. It appears to have a traffic light entry system, similar to the technology that has been rolled out across several supermarkets during the course of the pandemic.
Amazon is understood to be developing other sites in London, another just up the road from Ealing in Notting Hill Gate, on the site of a former independent book shop. The format of any future sites has not been revealed by Amazon.
"This all tells me more about Amazon's efforts to right-size its physical grocery offer than it does the big four's laggard approach," Knights added. "It will certainly put more pressure on the rest to raise their game.
"The Amazon Dash Cart offers a pretty mind-blowing customer experience when it comes to removing friction from food shopping. But, by retaining traditional checkout lanes, the Fresh stores actually remain accessible – enabling Amazon to enjoy all the gain, while minimising pain of appealing to non-Prime customers."