This article is part of a series on excellence in in-store merchandising by Tcc Global insight director Bryan Roberts
Having taken a look at beer and wine in previous instalments, we complete our bacchanalian adventure with some merchandising highlights for the spirits category. Although it has seen some very exciting developments in recent years, matched by rapid growth for certain drinks, the spirits market is arguably less accessible than beer or wine, and suppliers have been working hard to ensure that spirits enter the consideration set for different alcohol consumption occasions.
Often this has taken the form of suppliers pushing RTDs – the convenient ready-to-drink pre-mixed servings of spirits and mixers. Alternatively, some big brands have been marketing their products as ideal pre-dinner drink or as a general drink that could be an alternative to beer or wine.
Like beer, the spirits category has not been immune to the outbreak of artisanal producers: gin has been at the forefront, though vodka has also seen some interesting developments, while whisky in all its forms has seen a flourish of new product development in an attempt to capture new consumers.
There is also a geographic aspect at play here too: consumption hotspots in Asia (South Korea and Japan) and Europe (Spain, Italy, Portugal, Poland and Russia) leave other countries in their wake in terms of per capita consumption. Unsurprisingly, therefore, several of our favourites are from Iberia and eastern Europe.
Ahold Delhaize (Czech Republic)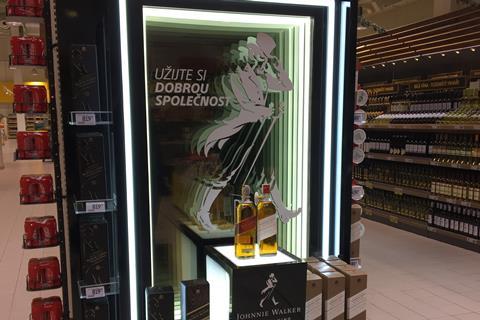 The Ahold Delhaize hypermarket operation in the Czech Republic, Albert, collaborates with a wide variety of suppliers across BWS to implement very engaging point of sale. In this instance, the Johnnie Walker brand is highlighted with an eye-catching endcap that features a 3D design.
Carrefour Market (France)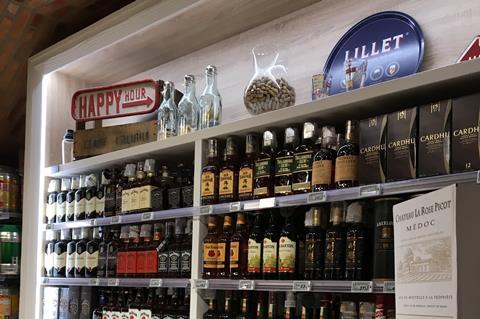 The Carrefour Market concept in Saint-Marcel, Paris, is justifiably lauded for a wealth of unique store design features and merchandising excellence. This is more than evident in BWS, with the whisky range showcased in distinctive shelving dressed with assorted drinking vessels and accoutrements.
Carrefour (Poland)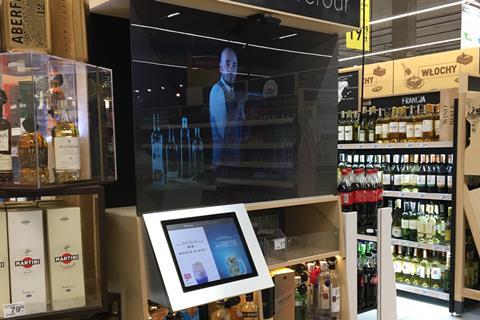 Elsewhere in the Carrefour empire, this new concept hypermarket in Warsaw has attempted to demystify the spirits category by providing cocktail inspiration. This fixture includes both mixers and spirits as well as an interactive video screen that shows a mixologist creating cocktails with the ingredients selected by the shopper.
El Corte Inglés (Portugal)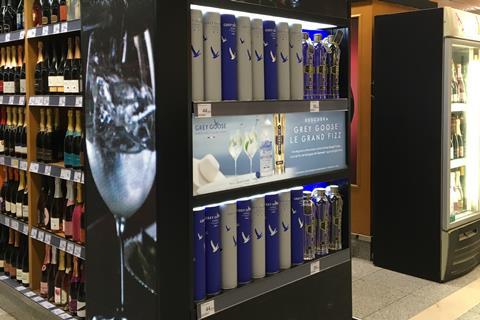 More digital innovation here, this time from the Lisbon outpost of Spanish retailer El Corte Inglés. The retailer is no stranger to supplier-funded shopper marketing and this example from the Grey Goose vodka brand is excellent. The display includes digital screens on each side of the display, guaranteeing great visibility in what is a busy urban store.
Jumbo (Portugal)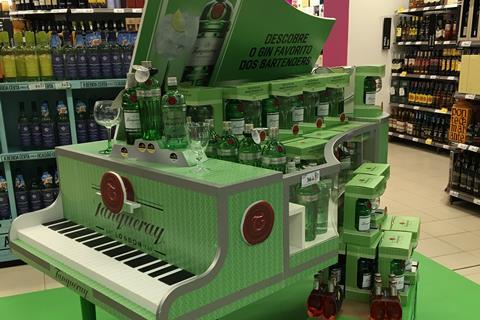 More effective cut-through in Lisbon, this time from Jumbo, Auchan's local operation. By carving out space for this great piece of PoS, the Tanqueray gin brand enjoys a strong presence. The piano display includes regular bottles, gift packs with a free G&T glass and some Schweppes mixers.
Konzum (Croatia)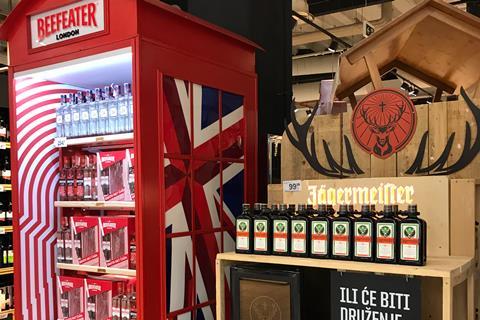 A similar story plays out in Zagreb, where Konzum has partnered with many major brands to implement some superb shopper marketing. Just two examples are shown here: a British phone box-style display for Beefeater gin alongside a more rustic display for Jägermeister.
Pingo Doce (Portugal)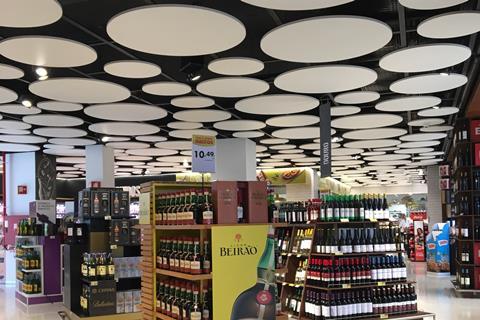 A bit of cheating here – as this is not specific to spirits – but it would be been a shocking omission to not include Portuguese retailer Pingo Doce in one of these three BWS articles. The fixtures are incredibly well executed. Here we see Chivas and Beirão enjoying pride of place, but the overall look and feel of the department is superb – especially this stunning ceiling.
Sainsbury's (UK)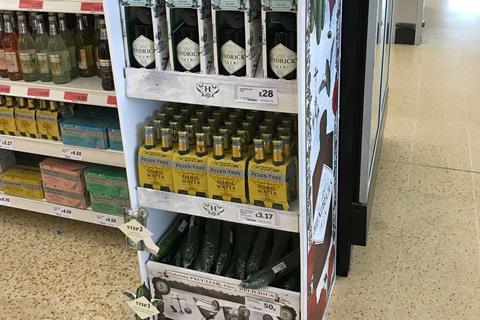 Finally, one from closer to home with which to finish up: a lovely example of a FSDU living up to its potential (despite some possible pitfalls). A collaborative approach – Hendrick's gift packs, Fever-Tree mixers and cucumbers stocked in store by Sainsbury's – creates a genuine solution for shoppers looking for a summertime cocktail. Lovely stuff.