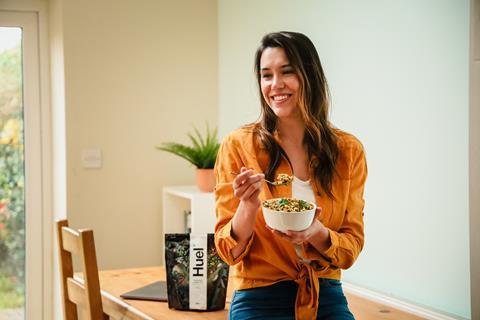 Surging growth has continued for vegan meal brand Huel, with annualised sales topping £70m as the boom in home delivery helped grow the brand both in the UK and internationally.
Newly filed annual accounts showed sales of £99m for the 18 months to July 2020, up from £39.8m in the previous 12-month period.
On a pro-forma basis, that meant sales in the 12 months to July 2020 were up 42.6% to £71.6m compared to £50.2m in the previous 12 months.
Huel said growth was helped by new flavour launches and the rollout of an improved recipe across its existing powder range in December 2019, as well as the addition of its Black Edition powder range.
Huel CEO James McMaster said growth in international markets had also been a key factor behind the increased sales, with the brand now selling into 100 countries across the world.
He said: "With obesity levels at record highs, the move towards eating more healthily has drawn people to Huel.
"There is a growing awareness of carbon calories and a Huel meal is four times better for the planet than eating a burger."
Huel's growth has continued through the post-coronavirus period and it saw "huge demand" during the initial lockdown period in 2020 before returning to more normal growth levels.
"We're obviously grateful that overall growth is strong but believe a faster paced world post pandemic will see the convenience category play catchup and that should help us," McMaster said.
The company made an EBITDA loss of £1.1m in the 18 months period as it invested in growth, down from £2.7m loss in the previous period. EBITDA moved positive for the 12 months to July 2020, coming in at £1.2m.
Gross profit for the 12 months to July was up by 52.5% as sales growth outstripped the rise in costs.Overall Huel made an 18-month pre-tax loss of £4.3m compared to a loss of £3m in the previous 12 months.
Although primarily an online operation, Huel launched into Sainsbury's in late 2019 – a partnership which is said had been "promising", illustrating further potential for the brand in conventional grocery.
McMaster added: "Our retail stores strategy works in tandem with our online model, helping awareness and meeting the needs for impulse food and drink occasions so customers can grab Huel when they are out and about."
He said Sainsbury's had recently tripled its distribution of the brand, now available across more than 1,000 stores, while it has also rolled out into other retailers include BP, Boots, WH Smith and Moto services as well as supermarket ICA in Sweden.