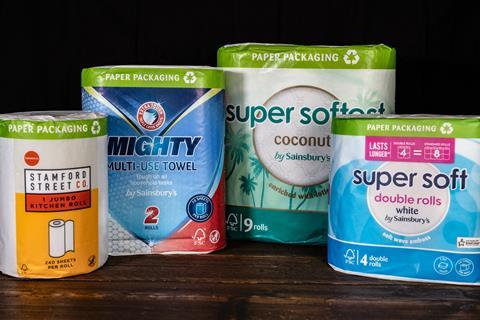 Sainsbury's has swapped plastic for paper packaging across its entire own label range of toilet and kitchen rolls, in what it says is its largest single plastic reduction initiative across its grocery products to date.
The swap has launched on an initial 27 products this week, however Sainsbury's is aiming to roll it out across its entire range by February 2024.
The move is expected to save the retailer 485 tonnes of plastic a year when it is fully rolled out. The new packaging can be recycled by customers at home via kerbside.
"We sell thousands of our own brand toilet tissue and kitchen roll products every week, and by switching from plastic to paper on these household staples, we're able to make a significant impact in reducing plastic," said Sainsbury's director of product innovation Claire Hughes.
"This change alone represents the biggest plastic reduction in our grocery products so far and our customers can expect many more changes to come. Collaborating with our suppliers to develop innovative packaging solutions to reduce plastic is a major key priority for Sainsbury's, helping us to achieve our ambitious target of increasing recycled content and recyclability."
Sainsbury's aims to halve the amount of plastic packaging across its operations by 2025.
In what was seen as a controversial move by some customers, the supermarket ditched plastic trays for vacuum packaging on its own label beef mince in February.
It made a similar switch on some own-label steak lines in July, swapping plastic trays for cardboard. That followed swapping plastic trays for cardboard on own label whole chickens in April.
On the toilet roll front, Sainsbury's doubled the length of some of its own label toilet roll products in July 2022. At the time Sainsbury's said the move would reduce the amount of plastic packaging used by 30%, as the rolls would last longer and required less wrapping overall.
It has also reduced the price of own label toilet and kitchen roll products on two occasions this year, as pulp costs have fallen.
This week the supermarket unveiled a major new brand refresh, targeted at playing up its health, value and innovation credentials during the cost of living crisis.
The slogan 'Good Food For All Of Us' will feature across all of the supermarket's advertising campaigns from November.