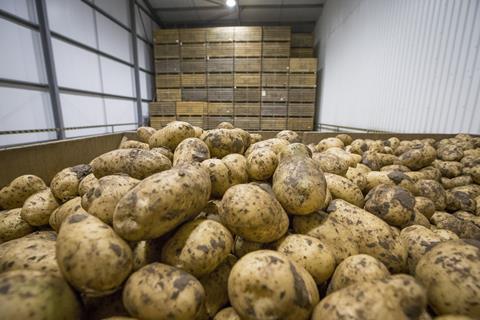 AHDB has been struck by another blow after potato growers and buyers followed those in horticulture by voting overwhelmingly to abolish their sector's compulsory levy.
Just over 66% of growers voted against the continuation of the levy, with 33.6% voting to keep it on a turnout of 64%, with 1,196 eligible votes cast.
AHDB chairman Nicholas Saphir said he was "deeply disappointed" by the result, which leaves the long-term future of another constituent part of AHDB in the balance.
The board's 2019/20 accounts show it derived £5.8m (or 8.6%) of its £67.2m annual income from the statutory potato levy last year. Combined with the loss of its horticulture levy – which brought in £8.5m to the board last year – it means as much as 21.3% of AHDB's income is now under threat.
Analysis of the vote by electoral firm UK Engage showed a similar result – of 66.4% voting no versus 33.6% for yes – according to value of levy paid.
This differed from the vote by horticulture growers earlier this year, which found 61% voted to abolish their levy but a reverse picture according to value of levy paid – with 57% voting in favour of retaining the levy against 43% in favour of abolishing it.
That result saw Saphir face criticism for attempting to skew the result after he noted voter sentiment varied "across different crop sectors and size of business". But following the potato sector vote, he conceded "a clear majority" of growers felt "they are not getting enough value from the current levy set-up".
UK Engage also revealed 82.1% of potato buyers voted no to the continuation of the levy, while 17.9% voted yes. Growers, meanwhile, voted by 64.3% to abolish the levy, with 35.7% voting to keep it.
"It is now down to ministers to weigh up all the various factors about the GB potato industry and make a decision on the future role of a statutory potato levy," Saphir added.
"We will now take these results and scrutinise them closely before making a decision on the future of the potato levy," said farming minister Victoria Prentis.
"A joint decision with Scottish and Welsh ministers will be made after the Scottish and Welsh government elections," she added, while confirming the 2021/22 levy would be collected as planned, despite anger from the growers – known as the AHDB Petitioners – who had organised the potato and horticulture votes.
The petitioners welcomed the potato vote result, with Lincolnshire grower John Bratley stating AHDB was an "expensive compulsory levy body which doesn't understand the realities of the marketplace that today's modern businesses operate in".
Discontent among growers was "not new", he added. "It has been brewing for years, but this is the first time growers have been given a way to express their discontent with the system."
Flower grower Simon Redden, who had been critical of attempts by AHDB to weight the result of the horticulture ballot by the amount of levy paid, also welcomed the result. "It has been so unanimous that Nicolas Saphir hasn't even attempted to put a positive spin on it," he said.
However, the group described Prentis' confirmation AHDB would collect the levy as "crass" and indicated a lack of sympathy by the minister, "suggesting she is out of touch with the industry that she represents".
Responding to the result, NFU potato board chair Ali Capper said growers had sent a "clear signal" they did not believe their levy was delivering tangible benefits or value.
"As with the result of the AHDB horticulture levy ballot, we expect ministers to respect this result and fully engage with levy-payers as part of their decision making."
However, she stressed elements such as research and development and work on plant protection products, currently delivered by AHDB Potatoes, would remain crucial for businesses. "So it is important there is clarity on the future as soon as possible. This will ensure businesses are able to prepare how they work on these areas and who with."