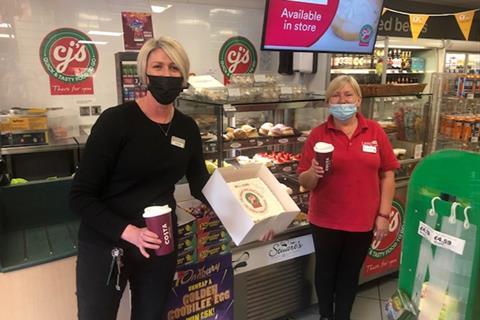 CJ Lang is set to roll out its food-to-go brand, CJ's, across its entire 108 company-owned estate by the end of the year.
The announcement came as the Scottish Spar wholesaler said sales in the food-to-go category were up 60% on last year.
There are currently 65 company-owned stores that offer CJ's.
It is the over-arching brand that sits alongside other food-to-go ranges, including Costa Coffee, F'real Milkshakes, Rollover Hotdogs and Dunkin' Donuts.
It also includes a hot breakfast and lunch offer, with support from local bakers for a range of rolls, cakes, sweet treats and hot savouries.
The local bakery suppliers include McGhees, Ashers, JG Ross, Stuarts, and Browning's.
"We are delighted our customers have responded so well and supported our new food-to-go brand CJ's," said CJ Lang head of food to go Stephen Brown.
"The rollout has been fantastic and last week stores hit record-breaking sales well ahead of target. As a token of our appreciation and in recognition of everyone's hard work, we are sending celebration cakes to say thank you to our warehouse and head office teams in Dundee and all our company-owned stores.
"We will continue to adapt our menus and develop our food-to-go offer to give our customers great products and choice. Food-to-go is one of the fastest-growing categories within our business and by making this huge investment we are confident Spar Scotland will continue to lead in the convenience sector."