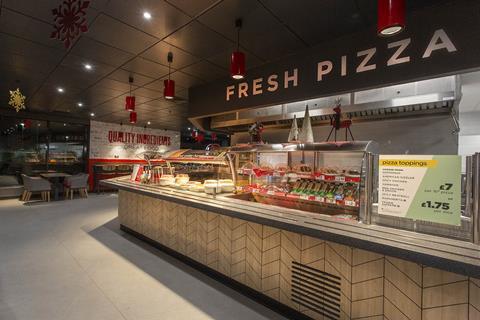 Asda is to replace its fresh meat and fish counters with a new food-for-now offer, including food to go and delivery services, in another nail in the coffin for traditional in-store supermarket counters.
It plans to roll out at least 35 of the new formats by the end of the first quarter and 150 by the end of the year, with trials launched last year in 13 stores.
The supermarket giant said the move was part of a strategy to "trial, test and learn" from new services in store, but pledged there would be no redundancies because of the move, which comes amid controversy over Asda's move to sign its workforce up to contracts making their roles in store more flexible.
It also comes almost exactly a year after rival Tesco caused a storm by announcing around 4,500 staff would leave the business, after it decided to take the axe to its underperforming counters.
Asda said its food-to-go counters would see products such as peri peri chicken, pies and sushi in a link-up with Sushi Daily.
Meanwhile Asda's Edinburgh Jewel store has also launched a new 'food court' style dining experience, giving customers the opportunity to order from the in-store Sushi Daily concession, Subway concession and to purchase hot pizzas.
Meat and fish counters will transition from February onwards to provide alternatives to customers which Asda said "better meet their needs".
As well as food to go it will be extending its partnership with Just Eat, with all of the new-style counters taking orders via the delivery service.
Around 50 Asda stores are already linked with the Just Eat service.
Asda is expected to announce a series of further commercial partnerships with other food-to-go providers in the coming months as part of its transformation, which comes as CEO Roger Burnley seeks to reinvigorate stores following the collapse of plans to merge with rival Sainsbury's.
"The success of our counter trials last year shows there is a demand for an offer which is better aligned with our customers' lifestyle," said Elizabeth Ruddiman, senior manager of Asda's food-for-now operation.
"The popularity of our sushi concessions and international cuisine, along with food-for-now options show there has been a shift in customer behaviour and there is a need to provide a greater choice in our stores.
"The trials have been well received by both colleagues and customers in 2019 and will be used to inform our rolling programme of counter innovation from February onwards.
"We will be trialling a number of exciting options, which will see Asda partner with new and innovative brands, as well as popular favourites, to provide a better experience for our customers.
"Asda has a long history of innovation and trials aimed at providing increased customer choice and we want to use this as an opportunity to better meet customers' needs at a local level."