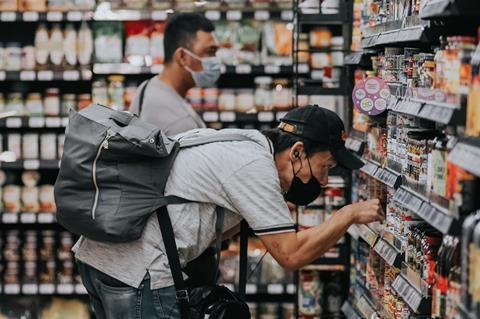 Bricks & mortar will soon see a surge of shoppers who once again feel safe in physical stores, having avoided them for the past 14 months. But I doubt they'll fall back in love with physical stores – this first contrast to online will be disappointing.
Touchy-feely shopping has appeal. Still, picking up an avocado in person can't match the simplicity and convenience of online. And who wants to buy that avo now you've decided it's not ripe enough?
So to maintain share gained in lockdown, the major mults need to entertain shoppers and give them a clear reason to come back. This isn't so easy while they're wearing masks. The sense of smell is dulled and vision is foggy, so touch, taste and imagination are left to do the work.
They also need to disrupt behaviour learned during the pandemic. Having tried to speed shoppers up for months, stores now need to slow them down. They need to engage their imagination and get them reading packs to consider new purchases, all with their glasses steamed up. So far I've seen none striving to be the 'media store' – just cost-cutting, penny-pinching and compromised buying decisions based on the suppliers who are prepared to prop them up with margin.
Lockdown has presented a 'ground zero'. So unless you're a discounter, don't rebuild what we had before.
I can't help liking the new spirit in Asda – they are finally facing their reality. The first strategic choice in meeting the new 'haves' (kept my job) and 'have-nots' (lost my job) consumers is to be or not to be a discounter. When the word 'Aldi' is in both Tesco and Sainsbury's ad slogans, you know they've got something right. It's been tragic watching Asda head for the abyss with pitiful attempts to claim the loyalty of shoppers who went in for cheap prices when there's an Aldi next door. The new lads are facing that. Their choice is clear: be a real discounter. Get your range and stock down, hive off the space to rented concessions and be a player. Fair play to them, and I hope their finances hold up long enough for electric car charging to come in and slow down shoppers.
If you're not a hard discounter, then you've got to be thinking choice, simplicity and retail-tainment. These three are only available in Amazon's new physical stores – nowhere else. Amazon can also lead the 10-minute delivery challenge online any time it chooses to. And once it presses the button, its data will be the biggest barrier to competition in grocery history.
Without some form of reinvention from the mults, the likes of Amazon, Aldi and Lidl will find stealing share as easy as taking candy – and, indeed, all other categories – from a baby.