With shoppers braced for Brexit potentially less likely to splash out, this year's festive season could be more crucial than ever for the UK's supermarkets. So what's in store?
This weekend the Santa Claus come out. For two weeks already, Amazon has been teasing discounts for its annual Black Friday event, prices slashed across everything from beauty kits to deep fat fryers and widescreen TVs in a 24-hour flash sale imported from the US. This year, consumers will spend an expected £5bn over the course of this weekend alone, nearly a quarter (22%) using the retail event to tick early items off their Christmas list, according to e-commerce specialist Salmon, with an average spend of £90, up almost 12% compared with 2017.

For the most part, supermarkets will sit and watch from afar, though Asda (which pulled out of the event in 2015) has launched its own 'Green is the new Black' equivalent, a sale spanning several days to avoid the in-store carnage of 2014.

But whether stores take part or not, the fact remains that the mass sale - of which 92% of shoppers are now aware, according to McKinsey - marks the starting pistol for the most crucial trading period of the year across all major grocers: Christmas.
From now, early festive arrivals in stores will build rapidly across all categories, store managers will dust off festive CDs and retailers will begin to deliver on the tear-jerking promises of those Christmas ads. So, what are they likely to have planned? And is it set to be a happy Christmas for one and all?

The high street is in turmoil, after all. Hit with inflationary pressures, shoppers reined in spending across non-food gifts, found the BRC, with like-for-like sales down 4.4% and notably less footfall in stores. That hit department store-style retailers like M&S hard, where sales of its clothing and homeware fell 2.3%.

Food - and the supermarkets - didn't fare nearly as badly, though. Sales of groceries in the four weeks of December climbed 3.7% or £500m, found Nielsen, a divergence between food and non-food that "has never been so stark", pointed out BRC chief executive Helen Dickinson.
Sunday trading
Timings helped, said experts, with one of the busiest grocery shopping days of the year, 23 December, falling on a Saturday. This allowed grocers to push for last-minute indulgences and promotions, placing a particular focus on private-label upgrades (with sales of private-label ranges growing at three times the rate of the overall grocery market).

As a result, despite a challenging trading environment, all of the big four supermarkets reported growth over the festive period, many citing "record" performances and their strongest sales in years, any caveats the result of struggling to shift non-food merchandise (as was the case with Argos at Sainsbury's). That was despite shoppers shifting over to the discount channel in their droves, with sales up more than 15% at Aldi, according to its managing director of buying Julie Ashfield, in its "best Christmas ever". Lidl saw a 16% uplift too, experiencing its "highest-ever footfall", shifting 600 tonnes of brussels sprouts, 17 million mince pies and 800,000 litres of fizz.
The good-better-best performance in grocery "doesn't mean supermarkets can be complacent, especially not in such a competitive industry", says Michael Poyser, chief analytics officer at Ecrebo. "As all retailers know, like-for-like sales are the lifeblood of retailing. Grocery retailers are all looking to boost sales over the crucial Christmas trading season, and being able to build upon last year's performance is key to success."

There are already signs this year could be more challenging with a stark slowdown in sales of food in September, volumes down 1.5% according to the ONS, in what it said was the largest decline for three years. So supermarket CEOs are exercising restraint. Earlier this month, Mike Coupe spoke of an uncertain outlook at Sainsbury's half-year results. "We have to strike a note of caution because we are in unprecedented times," he warned, before insisting the grocer continued to be "highly competitive and promotional".

The ongoing tumult of a final Brexit deal is one of the major sources of pressure on both prices and discretionary spend as we head into Christmas of course, with news of suppliers, retailers and foodservice operators stockpiling up to two months' worth of ingredients ahead of potential delays at the UK's ports only adding to the anxiety on high streets.
Smaller and later
As a result, "our prediction is that Christmas will be smaller and late this year," says UK head of retail at KPMG Paul Martin. "There is a very large caveat though, depending on what message our politicians deliver on Brexit. It could be even later and even smaller, or it could be better than predicted depending if any deal is struck. We're definitely seeing a level of nervousness from the consumer at the moment."

It is a nervousness compounded by, in contrast to last year, poor timing for the busiest food shopping day of the year (23 December). This year it falls on a Sunday, which has opening times of stores up to half the length of 2017. "We've got a significantly decreased amount of store opening time to utilise in the run-up to this Christmas," adds Martin. "That will place interesting challenges on logistics and store staff."
"Christmas will be smaller and late this year, depending on what message our politicians deliver on Brexit"
So, how do retailers plan to tackle the challenges of Christmas 2018? "For all of them the starting point should've been a detailed look at what worked and what didn't in 2017," advises Poyser, "by analysing - in detail - the data from previous Christmas periods. This analysis should be based not just on units and volumes sold, but also understanding exactly how customers shopped. For example, which customers shopped across different categories? Who were the early adopters of the brand's new Christmas lines? And who came back to buy them again?

"All of these insights are key to understanding what did or didn't work well, enabling retailers to replicate any successes this festive period, and to identify the 'turkeys' to avoid repeating this year."

One insight, insist a number of experts, is satisfying the perennial desire for value. Aldi and Lidl didn't achieve double-digit growth thanks to rock-bottom prices but because they provided consumers with "the emotional high of finding an outstanding deal," says Felix Koch, regional CEO at C Space, be it the "£10 lobster or the £5 Baileys" or the serrano ham centrepiece for £14.99. That feeds into this "notion that they're outsmarting other shoppers. That's a value proposition and it comes with an emotional payoff."

This year looks to be no different across the discount channel, with 2kg turkey crowns for £11.49 and a Deluxe nut roast for less than a fiver on sale at Lidl. At Aldi there is Specially Selected beef joints for £14.99 and 85p pigs in blankets. "Our approach is always to provide quality products at the lowest possible prices," says Ashfield. "This strategy is unchanged at this time of year when our customers are looking for both value and indulgence when entertaining friends and family."
To compete, rivals look set to emulate the strategy. As M&S unveiled its marketing campaign earlier this month, the focus was resoundingly on product, quality and value, "which people might not have expected," according to marketing director Sharry Cramond. "We're much more confident talking about the prices this year because we've invested to make sure customers get even better value but the same great quality." That carries through to stores, with prices flagged up clearly above shelves in festive red, from £5 selection biscuit tins to £2 clementines and a range of £4 sweet treats.

Prices set at this more memorable 'round pound' mark to convey value (part of a broader trend to compete with the discounters that's been dabbled with since 2009) have been adopted by Tesco too, across its festive Finest additions: a Magical Woodland Cheesecake at £10, a stuffed butternut squash at £9 and a smoked Scottish salmon for £20.
---
Five products that stood out in this year's Christmas previews
The feature continues below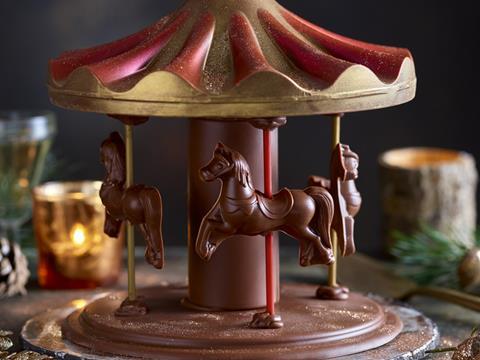 Aldi Specially Selected Chocolate Carousel
Price: £14.99
This 800g hand crafted and decorated chocolate carousel is produced by a London artisanal chocolatier. With four Belgian milk chocolate horse lollipops, the spectacular centrepiece from Aldi's premium own-label range is entirely edible, apart from the sticks. It's not the only dazzling dessert in the discounter's Christmas offering this year. Its Christmas pudding comes with a bottle of salted caramel vodka to pour over the top.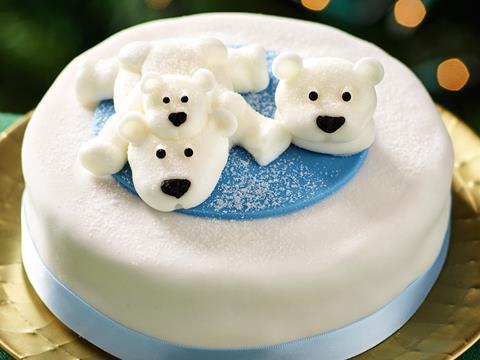 Morrisons Free From Polar Bear Christmas Cake
Price: £6
It's no surprise major retailers have upped their festive free-from offerings. Morrisons' Christmas cake featuring polar bears made from icing is one of the more adventurous products. The vanilla sponge with raspberry jam is free from both gluten and milk, and is one of many free-from desserts at Morrisons, including a chocolate yule cake.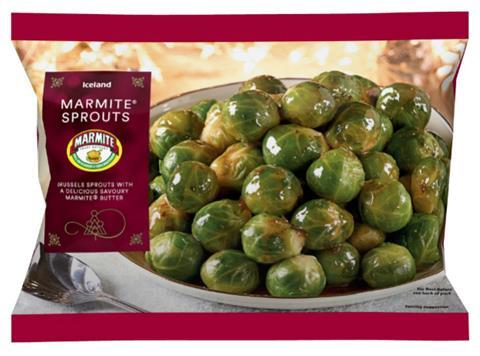 Iceland's Marmite Sprouts
Price: £1.50
Iceland and Unilever have teamed up to turn the often shunned side of sprouts into a 'must-try' dish. Marmite Sprouts promise a flavour combination that "draws out the natural sweetness of Brussels sprouts, while suppressing some of their bitterness". Shoppers are bound to either love or hate this twist on tradition, one of many Iceland is offering including mince pie ice cream cones.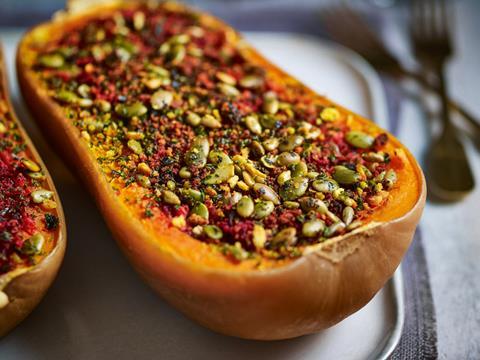 Tesco Finest Vegan Stuffed Butternut Squash
Price: £10
Vegan alternatives to the traditional turkey are veering away from the usual nut roast. As a growing number of consumers look to cut back on their meat consumption, retailers are going all out to ensure they have an enticing meat-free Christmas range. Tesco is offering half a butternut squash stuffed with beetroot, apple and green lentils as the main event at dinner. It has also created a cauliflower wellington lined with mushrooms and butternut squash.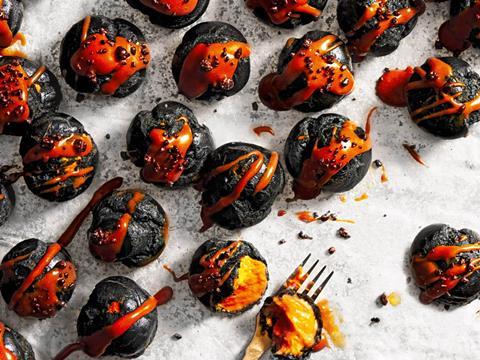 Heston from Waitrose Profiter'coals
Price: £13
Heston's Christmas range for Waitrose never fails to impress. Last year, the popular Christmas pudding with an orange hidden inside made a comeback alongside a venison pâté with sour cherry. But these seem tame compared with the black profiteroles hitting shelves this year. Tapping into the charcoal trend, these pastry balls are filled with a flame-coloured mandarin orange crème pâtissière, with a smoked orange caramel drizzle and sprinkled with popping candy.
---
Trading up
Closely linked to this focus on value are efforts to encourage shoppers to trade up, in particular across own label where margins hold the biggest reward. "Even budget stores like Lidl and Aldi are putting significant investment behind offering better, pricier versions of their usual products," says Phil Pawsey, executive creative director at marketing agency Blackdog. "Unlike Halloween, where price is the biggest driver of where shoppers will visit, Christmas is a time of year when shoppers are willing to trade up to 'better' versions of their everyday favourites." Last year, a record £469m was spent on premium own-label lines in December alone, found Kantar Worldpanel "showing how shoppers are willing to spend a little more in order to treat their friends and family to the best food and drink. This year we are seeing retailers leverage this much more than they have done in previous years."

At Lidl, 'Upgrade your Christmas' is the tagline overarching all its festive activity, from TV ads to new recipe ideas (everything from 'the greatest gravy ever' to concocting your own sugar syrup for homemade cocktails) to products. It all feeds into an emphasis on the latest additions to its Deluxe range. Those include the likes of wild-caught Argentinian red prawns, an outdoor-bred RSPCA assured porchetta joint and a British beef bone marrow pie with hand-finished decorative pastry that, says Lidl, plays into a more adventurous consumer.

"Every year, retailers push the boundaries with NPD and new flavour combinations and while some customers are loyal to a straightforward traditional mince pie or Christmas pud, others want to try something a little more adventurous like chocolate orange mince pies or prosecco crisps," says a spokeswoman. "We've been very careful to ensure we have a comprehensive yet varied festive offering to appeal to all customers."
At Waitrose, the push for premium 'extra' has seen early store activations highlight new Christmas arrivals from the Heston range on dedicated gondolas, including Chocolate & Cherry Mince Pies, with other showstoppers including a Cranberry Burst Turkey Parcel, Beet Wellington and Wassailing Stuffing.

It's a similar story at Sainsbury's, where CEO Mike Coupe has said at Christmas "consumers will trade up and tend to come to Sainsbury's more". Early indications of that strategy in store come from the ambient category, where Taste the Difference Belgian Dark Chocolate & Cranberry Shortbread takes pride of place on a mammoth display of festive biscuits, dominated by own label. A huge selection of own-label sweet treats sits elsewhere, including Mini All-Butter Mince Pies (£2) to All-Butter Prosecco Panettone (£7.50).

Meanwhile, Morrisons is set to launch more than 250 new premium lines for Christmas, CEO David Potts claiming the battle for festive shoppers is just as much about quality as price. In November 2016, Morrisons had 100 Christmas-only Best items, but that figure has grown to 256 this year, including a Sloe Gin Christmas Pudding and Espresso Martini Cheesecakes. "Many of our customers are on a budget and that really does mean a budget" but "we also think Best is a key part of our range," Potts told The Grocer.
Loosening the promotional belt
Helping nervous consumers keep to a budget - without resorting to the discount channel - could also see more promotions than in recent months creep into offers, suggests KPMG's Martin. "As we've seen over the course of this year, there's been a lot more discipline put on promotions within the industry. But after October, when we saw volumes decreasing, that discipline has been loosened and the big question for me will be, if our predictions of a smaller, later Christmas hold true, who will be nervous enough to start loosening the promotional belt to start shifting volumes?"

On some lines it appears that belt has already been loosened a notch. At Iceland, for example, own-label Christmas puddings are available on a three for two offer, while in M&S we spotted festive liqueurs sat by the tills for half price. Aldi's Specialbuys range "has a strong Christmas theme this year" too with deals on various categories teased by date online, including its Super 6 fruit & veg promotion (for sale from 22 December) and fresh turkeys (19 December).
"Being able to put an offer in the hands of a customer at the checkout to bring them back in will be a key differentiator for several retailers"
We may see retailers take this further, predicts Poyser, using new incentive schemes or money-off coupons. "Digital and paper coupons will form an important part of encouraging customers to buy specific products and to return to store for their next visit ahead of Christmas," he says. "Shoppers will naturally increase their purchase frequency greatly at Christmas, particularly during the four-week run-up to the big day, so being able to put an offer in the hands of a customer at the checkout to bring them back in will be a key differentiator for several retailers."

Of course, "attracting customers into stores is just the first part of the journey," he cautions. "Once shoppers are in store, they need to be engaged, and offered a seamless and frictionless experience. For retailers, this means providing excellence in execution across all areas of category management, with a particular focus on availability and merchandising, which are hugely important over the Christmas trading period."

With four weeks still to go, the full raft of in-store activity to tempt shoppers into bricks-and-mortar stores isn't yet on display - often just a few cardboard Christmas trees, some splashes of red and green and a smattering of tinsel all that's on display so far.

But, as with pricing and promotions, there are signs of what's to come. Not least efforts by the multiples to position themselves less as transactional supermarkets and more as foodie destinations. That includes suggested menus, practical tips on hosting parties or avoiding stress (Lidl recruiting social media influencer Madeleine Shaw to deliver advice) and a wealth of new recipes, available in store and online.
"They're trying to expand past provision of product by teaching cooking skills, bringing in recipes and meal plans," says Andy McGinn, strategy director at This Place. "I'll be interested to see if people offer 'Christmas in a box', taking the M&S-style meal for two that bit further. Tesco is taking its ready meal concept and trying to push that as a gourmet time-saving experiential part of someone's festive period. From the end of this month to mid-December, they're allowing people to order these virtually ready-made turkey dinners, desserts, canapés and so forth, all clubbed together and delivered."

This practical support extends to many of the supermarkets sharing dates that deals and product ranges will reach shelves. Asda has signposted the three stages in which Christmas food will reach its stores (with fresh the last to arrive in early December) while many have gone one step further, flagging up specific arrival dates for individual products online.
---
What are the other retailers up to?
The feature continues below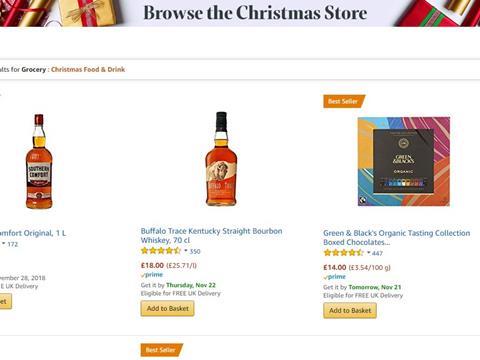 Amazon
Last year: By Boxing Day last year, Amazon was boasting "record" sales throughout the two months leading up to the big day.
This year: Black Friday seems a key part of Amazon's promotional strategy at Christmas. The online retailer kicked off its discounts a week early, saying this year was its "biggest ever". Its festive ad features Amazon boxes singing The Jacksons' 'Can You Feel It' and Alexa being asked to turn on the Christmas lights.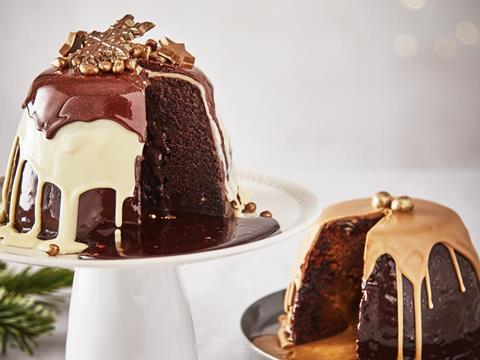 Booths
Last year: From record Christmas sales of more than £10m in 2016 to a rather subdued festive season in 2017, after which it was announced sales had slumped in the year to 31 March 2018.
This year: Booths is focusing on a traditional Christmas offering with classic staples made from locally sourced, good-quality ingredients. Products include a whisky and orange-glazed British gammon joint and a rich dark chocolate melting middle pudding.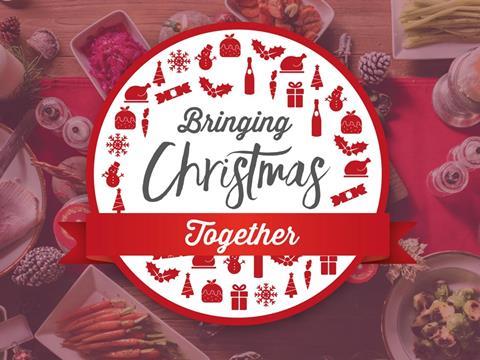 Costcutter
Last year: Costcutter was struggling from the collapse of Palmer & Harvey towards the end of last year, losing more than 400 stores.
This year: Costcutter has slashed the prices of over 1,000 Christmas products this year and as a result is predicting double-digit sales growth for the festive period. Brand manager Jenny Leetch says this year's campaign is about "bringing Christmas together", a slogan that is appearing across a multichannel campaign.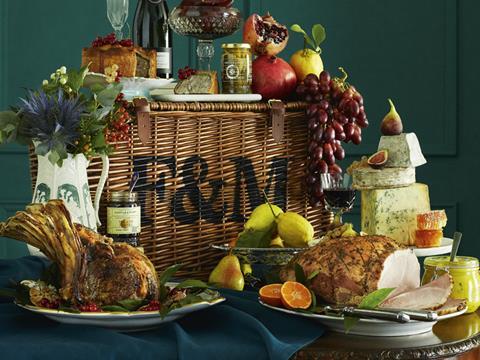 Fortnum & Mason
Last year: Shoppers helped boost Christmas sales to a record high last year, with like-for-like sales soaring 13% in the five weeks to 31 December.
This year: "Provenance and the story behind each product is more important than ever this Christmas," says commercial director Lucy Williams. "As free-from continues to be the consumer's choice, we have developed more options for Christmas this year," including a gluten-free Christmas hamper.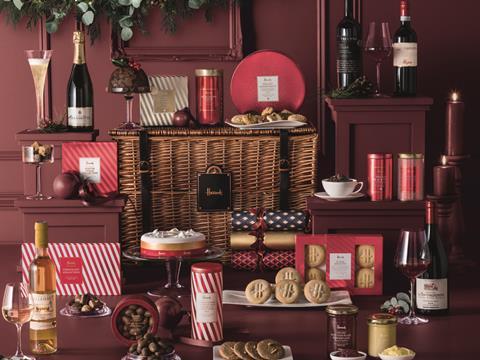 Harrods
Last year: Harrods achieved sales of £2bn for the first time in 2017, boosted by tourists taking advantage of the weakened pound, a trend that continued throughout Christmas.
This year: Only those who have splashed enough cash will be able to attend Harrods' popular annual grotto. But in the food hall, a team of 150 in-house chefs have curated a bespoke collection of Christmas-themed bakery items alongside a full Christmas dinner range.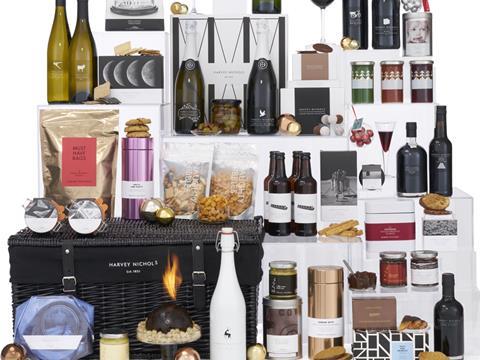 Harvey Nichols
Last year: It's perhaps unsurprising Harvey Nichols forewent an expensive Christmas TV ad, posting a pre-tax loss in December 2017 after a costly refurb.
This year: The department store has been transformed, with a giant champagne bottle filling the first two windows. Inside, the luxury retailer's hamper collection features a variety of its new own-label seasonal range, including a gluten-free Mini Christmas Cake Selection.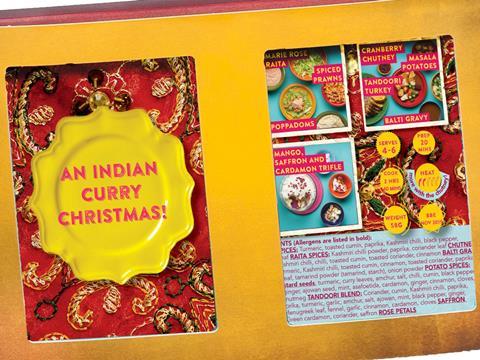 Ocado
Last year: Ocado hit headlines on Christmas Eve last year after it failed to deliver some Christmas Day essentials on time.
This year: A surge in plant-based interest has inspired Ocado to add a range of new lines (including pre-prepared nut roasts to its Christmas shop) and to introduce a vegan filter. The online retailer is also selling The Spicery's Indian Curry Spice Kit to "spice up Christmas dinner" and gin & tonic cocktail sausages.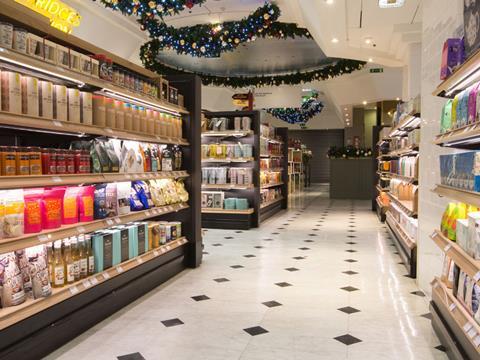 Selfridges
Last Year: Selfridges opened its dedicated Christmas shop in July and announced record sales of over £1.75bn for the year ending 3 February 2018.
This year: Selfridges has shunned Black Friday, instead opening the first phase of its Christmas shop back in August, with more than 500 products on offer. The full shop opened a month later, with Selfridges boasting the offering was 30% bigger than the previous year, with 3,800 products to choose from.
---
The in-store experience
Then there is the wider in-store experience, adds Linda Ralph, VP for premier sales at Mood Media, with "retailers looking at solutions to take the pressure off what is already quite a stressful purchase mission" be that "music coming into play to make the environment feel more pleasant and to mask some of the craziness of shopping trolley noises and kids screaming" or recruiting additional store staff. Tesco looks set to recruit 'festive colleagues' once again, job adverts calling for customer assistants that 'are passionate about service and want to help to give our customers their best Christmas ever'. Similar short-term contracts are on offer at Sainsbury's. "We know that extending opening hours and increasing staff numbers (albeit temporarily) to accommodate for this drastic uplift in activity will be necessary," says Julie Palmer, partner at Begbies Traynor.
"Extending opening hours and increasing staff numbers to accommodate for this drastic uplift in activity will be necessary"
In the same vein, we're likely to see supermarkets improve and extend their fulfilment offer, believes McGinn, to prove their mettle against Amazon (currently offering special deals, free samples and £20 off grocery shops with the password 'parsnip'). "We'll see people promoting and pushing the last-minute festive emergency-type service that's being brought into play," he adds, albeit across limited postcodes. This year will see the likes of Sainsbury's Chop Chop and Tesco's same-day delivery "highlighted for where you inevitably forget a few things or other guests come round and you need to top up", he predicts, with a view to offering the service right up to Christmas Day in 2019.

Beyond this practical, convenient shopping experience, though, is the emotional connection supermarkets can build with shoppers to prevent any further losses to the discount channel, adds Koch. "Companies that focus on the emotional payoff are actually doing much better than those that only focus on the functional and rational arguments," he argues. As well as a good deal, there are other elements to consider.

Marketing campaigns anchored by flashy TV ads, for instance, are a well-rehearsed tactic. "It's an incredibly effective route to capture attention and build longer-term affinity and relevance with consumers," says Kantar Millward Brown marketing research specialist Jane Bloomfield. "In using an emotional journey, it pays longer-term dividends for the brands well beyond the festive season. A lot of them don't focus on a blunt call to action that you might've expected throughout the year. What they're really trying to do is keep their brand top of mind over that period but also longer term."
Sustainable Christmas
Highlighting sustainability or charitable initiatives is another route to building brand love, demonstrated perfectly by the unprecedented hype Iceland has built around its Christmas ad and pledge to ditch palm oil. "The media's increasing focus on sustainability is pushing the topic front of mind for shoppers, especially young people who feel empowered to act," says Alice Mathews, culture and trends editor at Join the Dots.

"At the same time, retailers are under pressure to deliver on their sustainability pledges - with the big four, discounters and online retailers all setting ambitious targets for reducing their impact on the planet. These factors are coming together in time for a perfect storm this Christmas - in which we expect consumer demand and industry activity to come together to drive sustainable products up the Christmas shopping list."
Iceland aren't the only ones to cotton on. Aldi has already pledged to donate all surplus fruit, vegetables, meat, fish and bread when stores close on Christmas Eve, and - if last year is a measure - the likes of Tesco and Sainsbury's (which recycled 100 tonnes of Christmas cards in 2016) will likely follow suit.

Heading into the season of goodwill, the strategy makes sense more than ever in 2018, against a bleak, anxiety-ridden backdrop of Brexit, a weakened pound and swirling uncertainty. "It has been a turbulent year for high street retailers that usually capitalise on this frivolous spending," sums up Palmer. "Iconic brands including House of Fraser, John Lewis and Debenhams have all experienced a significant downfall in sales. As a result, Christmas has never been more important." Supermarket CEOs are all too well aware of this. The Christmas countdown is well and truly on.
The evolution of the Christmas campaign
There isn't really a consensus as to when the first 'proper' John Lewis Christmas ad aired. Was it the 2007 'Shadow' ad, presents piled up on a stage to create the illusion of someone riding a sleigh? Or the first time the retailer paired up with agency Adam & Eve in 2009 for a nostalgic look back at kids joyously unwrapping gifts? Or did we have to wait until 2011 and arguably its first big tearjerker 'The Long Wait'? Whichever gets your vote, the tradition of the statement big-budget TV ad, now emulated by all major retailers, hasn't been around that long. Yet it has become a Christmas milestone on a par with mistletoe and mulled wine.

"Christmas advertising is event television and these tentpole shared family experiences are becoming few and far between in the time of digital disruption and multi-device viewing," says Clare Hill, VP of marketing at Cannes Lions International Festival of Creativity & The Work. "The value of these key moments to brands is only becoming more important" with "storytelling the single biggest component" of many of these campaigns, as opposed to the hard sell familiar the rest of the year.

It's a strategy that works. Buster the trampolining Boxer in 2016 garnered 27 million views for John Lewis on YouTube, lucrative spinoffs from Sainsbury's Christmas cat Mog in 2015 included bestselling books and toys, while gentle rivalry between Aldi and John Lewis, which saw the discounter mock the latter's Man on the Moon in 2015, attracted huge amounts of positive attention and headlines.

TV has remained the central vehicle for these campaigns. "Big TV moments have become part of the British festive experience, and retailers and grocers want a slice of the action, spending huge amounts of their marketing budgets on TV advertising," says Paul Cooper, managing director of MediaCom North Group. "Some may question the role of TV within a longer-term brand building strategy but in the short term, TV drives impressive returns for retailers. With this unrivalled efficiency, and the ability to couple TV with second-screen proximity to e-commerce, TV is a powerful combination of an inspirational platform and the ability to deliver immediate purchase payback."

As a result, in 2017, marketers spent on average 21.5% of their annual marketing budget on TV ads in the six weeks leading up to Christmas Eve.

But could that be set to change? This year after all it looks like budgets may have been reined in, with ATL marketing spend down 13% so far, according to Nielsen, and there are signs that soft sells are creeping in at the expense of gushing storylines. Take Asda. In 2017 the retailer was lauded for its colourful Willy Wonka-inspired Christmas factory. This year's 'Bring Christmas Home' is packed full of product you can find in stores, from macarons on silver platters to toys piled in the snow.

"For retailers it's been a tough year so we might see a little less of the big blockbuster and more functional product messages creeping in," says Jane Bloomfield of Kantar Millward Brown.

The other option of course is to make bigger, better use of (the more economic) digital and social channels. After all "if you look at the best ads of recent years they have involved multichannel," she points out. Just think of Aldi's Kevin the Carrot with its hashtag #savekevin. Or the fact that Mog the Calamity Cat attracted nearly 38 million views on YouTube alone. Or, of course, the most talked about ad of 2018 - Iceland's tie-up with Greenpeace to highlight the environmental impact of palm oil, which never even appeared on TV.

Retailers all need to capitalise on the potential, says Edward East, CEO of Billion-Dollar Boy. "If the TV campaign drives people in store, influencer marketing drives shoppers right to the checkout," he says. "With people swiping through 300 ft of content a day, influencer marketing has become window shopping 2.0.

"There is much more opportunity to optimise an influencer marketing campaign than there is with a TV ad. You can deliver targeted content with trackable results and directly attributable sales."

Which may have less of a soppy feelgood factor than the Christmas ads we know and love. But could help UK grocers celebrate a merry Christmas, after a very tough 2018.