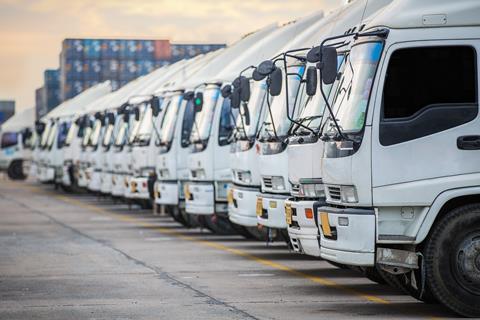 The UK driver shortage is far from over and a "tipping point" is looming, one haulage business boss has warned.
New analysis by Snap, the haulage industry's digital marketplace, shows a long-term increase in demand for deliveries coupled with a lack of new drivers.
This has created a near "tipping point" in the market, as there aren't enough qualified drivers to meet haulage demands, said Snap MD Matthew Bellamy.
"The continuing conflict in Ukraine, the number of drivers leaving the industry and regular strikes have put large amounts of pressure on the haulage industry in 2023," he said."We urgently need to address this driver shortage, not just for the festive period but long term."
Office for National Statistics figures showed there were 6,000 fewer delivery and courier drivers in the UK from April 2022 to March 2023, versus the same period the year before.
The data also showed over half (55%) of HGV drivers in the UK were aged between 50 and 64. The average age was 53, meaning many truckers will be heading towards retirement in the next decade.
Meanwhile, meal and grocery deliveries in the UK are expected to grow from 39.2 million and 24.2 million in 2023, to 50.6 million and 31.2 million respectively in 2027.
Logistics UK said it recognised "the industry's concerns around the ageing driver workforce, especially among HGV drivers".
It said it was working with government to attract new younger talent through industry-led campaign Generation Logistics, plus the Driver Academy Group, the government-funded bootcamp in HGV driving.
However, the group reiterated the current labour landscape was nowhere near the crisis levels seen during the peak of the Covid pandemic in 2021.
Severe HGV driver shortages back then, which had been brewing for years as the sector struggled to attract younger talent, caused major supply chain disruption that lasted several months.
That was compounded by an increase in online demand, with many supermarkets, online retailers and hospitality businesses having to up wages to attract both lorry and small van drivers.
"While a reduction in delivery and courier van drivers is notable, it is not clear there is an acute crisis as there are a lot of factors contributing to this, such as van drivers having more than one role and the industry adapting to changes in online shopping patterns following steep increases during the Covid-19 pandemic."
Simply Supply Chain MD Jonathan Kittow agreed the situation was "not extreme" at the moment because it was "widely perceived that Christmas volumes are actually going to be quite damp this year and therefore aren't going to stretch things as far as they might normally" due to the cost of living crisis.
However, there was still a "chronic shortage of drivers" and the industry was heading for another major "crunch point" in coming years without urgent action to attract younger workers, he noted.